FIFA
Karim Benzema FIFA 22: How to Complete the April LaLiga POTM SBC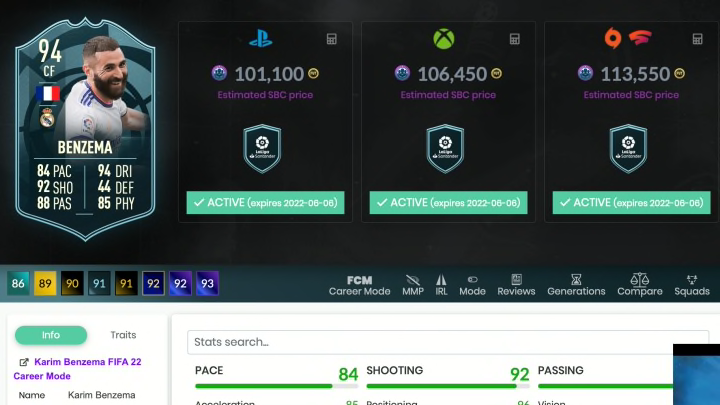 Karim Benzema has won the LaLiga Player of the Month award for April. / Photo Courtesy of FUTBIN
Karim Benzema has won the LaLiga Player of the Month award for April, beating out candidates including Pierre-Emerick Aubameyang and José Luis Morales. This is his second time this season winning the award, and EA Sports have released a new special POTM SBC item for Benzema in FIFA 22, available for a limited time.
The newest POTM Benzema is 94 rated, and costs one SBC segment to complete. Here's how to complete Benzema's April POTM SBC in FIFA 22.
How to Complete the Benzema April POTM SBC
Team Overall Rating: Min. 86
Team Chemistry: Min. 65
TOTW Players: Min. 1
Players from LaLiga Santander: Min 1
In total, the SBC costs just over 100,000 coins to complete. This is Benzema's highest-rated card in FIFA 22 Ultimate Team so far, and for 100,000 coins, easily attainable throughout TOTS month, this card will be easy to get. However, he is almost guaranteed a LaLiga TOTS card in just a few weeks, and that card will likely be 97 or 98 rated, turning this card into fodder.
A 94-rated card will be useful for future SBCs, but if you'd rather wait to splurge on TOTS Karim Benzema, that might be a better choice, especially if he gets a major upgrade compared to this POTM item.
Benzema's POTM SBC is available until June 6.