Kingdom Hearts Cloud Version Bundle to Cost $90 on Nintendo Switch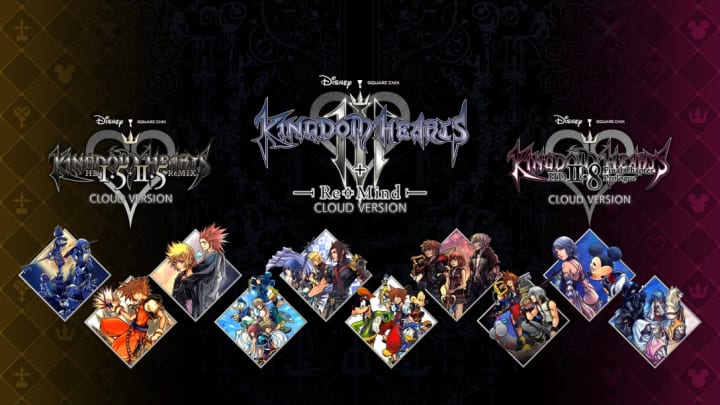 Image courtesy of Square Enix
The Kingdom Hearts cloud-streaming versions are set to launch for the Nintendo Switch on Feb. 10, with each game carrying a pretty hefty price tag.
Kingdom Hearts fans have been keen to get their hands on some Nintendo Switch ports of the RPG classic. Not long after the announcement that Sora would be the final DLC fighter to arrive in Super Smash Bros. Ultimate, Square Enix announced that they would be bringing the Kingdom Hearts series to Nintendo Switch.
Enthusiasm was quickly diminished, however, once it was revealed that the games would only be available as cloud streaming versions. Many expressed confusion over the decision, asking why even Kingdom Hearts 1.5 couldn't be ported natively. Others shared concern over the stable internet connection needed to continuously stream the games effectively. Later, Square Enix explained their decision to limit the series to cloud streaming on Switch.
While cloud versions can be hit and miss, what might have rubbed some salt into the wounds of some fans is the price point of each game.
How Much Will Kingdom Hearts Cost on Switch?
Players looking to purchase the full collection on Switch in one large bundle will be looking at the Kingdom Hearts Integrum Masterpiece bundle. This collection features Kingdom Hearts HD 1.5 + 2.5 ReMIX, Kingdom Hearts HD 2.8 Final Chapter Prologue, and Kingdom Hearts III + the Re Mind DLC. This entire bundle will set players back roughly $89.99, though pre-orders currently have a sale price of $71.99 at the time of writing.
Each game will be also be available individually, for the following prices:
Kingdom Hearts HD 1.5 + 2.5 ReMIX: $39.99 (pre-order sale: $31.99)
Kingdom Hearts HD 2.8 Final Chapter Prologue: $49.99 (pre-order sale: $39.99)
Kingdom Hearts III + Re Mind DLC: $49.99 (pre-order sale: $39.99)
With the context of each individual game's price, the Integrum Masterpiece bundle suddenly looks like a decent deal. However, it's hard to feel like these prices are justified when considering that these aren't native ports and still rely on stable cloud streaming.
The price of the full bundle is almost on par with that found on the PlayStation Store. The Kingdom Hearts All-in-One Package, which contains the same content as the Switch's Integrum Masterpiece, is currently listed on the PS Store for $99.99. While pricey, the package does include downloadable versions of each game, allowing you to run them all natively.
Additionally, each of the Kingdom Hearts games are regularly on sale on PlayStation, making it fairly easy to nab the full set of games for much cheaper. Whether we'll see such sales emerge on the Nintendo eShop remains to be seen. But, at such a price, those with weaker internet connections might want to wait for the reviews before purchasing.