LATAM Representation in Valorant: Is It Enough?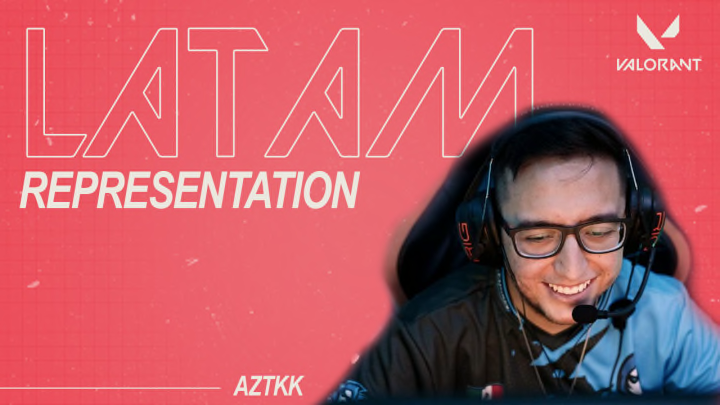 Image Courtesy of Ingrid Muhlenbrock
Valorant, a 5 vs. 5 first-person shooter developed and published by Riot Games, first launched in beta in April 2020 and officially released in June 2020. Valorant was developed to make tactical shooters and esports more accessible to new players and to attract a sizeable competitive scene. Valorant is guided by three core principles: competitive integrity, accessibility, and authenticity to ensure that esports is worthy of the player's lifelong attention and interest. As Valorant celebrated its 1st anniversary in 2021, Riot Games shared that Valorant garnered more than 14 million active players across the six servers: North America, Latin America, Brazil, Europe, and the Asia Pacific. Valorant is playable across six servers, and the top six countries with the most active participation are the United States, Brazil, Turkey, the Philippines, and Indonesia. As a Valorant player, I wanted to learn about the player experience of those who identify as Hispanic or Latinx, as 258.7 million out of nearly 2 billion PC gamers worldwide are from Latin America.
Valorant and Riot Games hosted the LATAM playoffs for one team to qualify for the VCT Masters in March 2022 in Mexico City. Only four teams were playing in the LATAM playoffs to qualify for the 2022 VCT Champions. The four teams are Leviatán, KRÜ Esports, E-Xolos LAZER, and FUSION. In the LATAM playoffs, only four teams were playing to qualify for the 2022 VCT Champions: Leviatán, KRÜ Esports, E-Xolos LAZER, and FUSION. Of the 21 players from all around Latin America, 48% were from Chile, 29% from Colombia, 10% from Mexico, and 1% from Argentina, Costa Rica, and the Dominican Republic. The LATAM Challengers were the server with the lowest number of participants compared to the North American server with 61 players and EMEA with 64 players. The LATAM VCT Masters had a peak viewership of 113,092 and lasted four days of competition. Compared to North America, which had a peak viewership of 278,15 and the competition lasted 51 days.
As a Mexican-American Valorant player of two years, I mainly consume esports content in English. However, while watching the VCT this year, I started questioning why there weren't any Valorant Mexican-American pro gamers in North America. I also realized how excited I get when I find someone in a match who speaks Spanish. As previously mentioned, the primary demographic of video gamers are Caucasian and Asian. I have also had experiences when players ask for my ethnicity, and they either guess White or Asian ethnicity. I took it upon myself to find out how other Latin American players, streamers, and content creators feel about the representation of Spanish speakers/Latinx/Hispanics on Valorant.
To learn more about the experience as a Latino in Valorant, I queued unrated games in Valorant to find players who would like to be interviewed to share their experiences. After three hours of playing unrated games, I was lucky enough to be queued in a game with Eswuar.
Eswuar is a 19-year-old Valorant player from Tijuana, Mexico who has been playing Valorant for approximately a year. Surprisingly, Eswuar brought up the topic of Spanish speakers in the lobby when he asked the team if anyone knew Spanish. I happily answered and played the game while we both talked in our natal language. Eswuar shared that he prefers playing on the NA server because playing on his own server gives him lag and the user experience is not the same. While playing in North American servers, Eswuar experienced racism while playing as his teammates would call him slurs because he was not fluent in English. After experiencing that behavior multiple times, Eswuar forced himself to learn English so he would not have to go through such a thing again. Although he plays in NA, he still prefers to consume content from LATAM streamers or pro players. Eswuar also followed LATAM esports teams throughout the VCT challengers and rooted for his favorite team Gamers2, also known as G2.
"I hope that the esports scene in Latin America has more presence around the world, specifically in the competitive scene" Eswuar shared. He also hopes to see a Mexican pro-player in a well-known esports team as esports progresses around the world. 
After learning about the perspective of Eswuar and his experience as a Latin American player, I wanted to get insight into what it is like being a Content Creator and Pro Player in Latin America. Juan 'MrPoro' Caicedo is one of Colombia's first gaming content creators. As a pioneer in being a streamer, I wanted to know more about what his experience has been like. MrPoro has been streaming for three years and has seen the evolution of gaming in Colombia. As MrPoro continued to stream and be part of many esports organizations, he finally got the opportunity to join Fusion in 2021. As a content creator for Fusion, he has the opportunity to create, design, and brainstorm ideas with the provided team. MrPoro shared that as a Valorant content creator, he receives support from Valorant and Riot Games. He shared that Valorant is constantly connected with him, updating him with events, PR products, and previews updates before they are released in-game. MrPoro shared his positive experience being a Latin American content creator for Valorant and was thankful that he was invited to attend the first VCT Masters of the year in Mexico. 
MrPoro mentioned that Valorant is one of the video games that has given attention to other regions outside of North America and Asia. "When Riot Games announced the Colombia server, it demonstrated their priority to serve all players around the world," MrPoro added, as it was his first time seeing a video game add a server for Colombia. Riot Games is different than any other gaming company due to the events that are hosted for content creators and pro players. In July 2022, Riot Games hosted a #ClutchAwards hosted in Mexico City, Mexico, where 20 LATAM content creators were awarded the best clutches from the competitive play a day prior.
MrPoro lastly shared that he believes the gaming industry in LATAM will continue to expand as gaming companies and advertising companies are noticing the audience they garner in Spanish-speaking countries. MrPoro also shared his excitement and support in seeing more LATAM pro players in esports and Valorant.
During the LATAM VCT Masters there were a total of 21 players and two of those players represented Mexico. Fabian "AztKk" Iglesias is one of the players in Fusion who represented Mexico in the LATAM Challengers. AztKk is a free agent player for Valorant and has been playing the game since beta. I interviewed AztKk to learn more about his experience as a professional Latin American Valorant player. AztKk has been playing video games ever since he was young and successfully made it his full time career. AztKk's Valorant career began right when the beta was released, and he saw exponential growth after he began streaming his LAN games on Twitch. AztKs's experience being part of the Valorant community has been positive as he has been able to participate in many tournaments and events hosted by Riot. His appreciation for Riot was seen throughout the entire interview as he was very happy and thankful that Riot took into consideration LATAM when they announced that Mexico would be having their own server. AztKk mentioned that Riot Games is one of the first gaming companies to take into consideration the Latin American countries for adding their own servers. He shared that he always played in North American servers with more than 40 ping because there were no servers in his country. AztKk added that "some players from LATAM are not considerate of the Mexico server" and he wished that players would not discredit other players for their skills. He explained that players in LATAM servers discredit the skills of players saying that it is easier to reach a rank compared to other servers like in NA or EMEA. AztKk hopes to see more in-person events where teams from all over the world can come together, meet, and play against each other. 
After speaking with three Valorant players with different points of view of the game, it was conclusive that Valorant and Riot Games have done their part to be inclusive of the different communities that play their game. 
Riot Games partnered with Mexican mass media companies, TV Azteca deportes, and Cinemex, to open the first esports Stadium in Mexico City. Not only is it the first esports stadium in Mexico, but it is also the first facility for LLA (Liga Latinoamerica or Latin American League). This partnership has been in the talks since 2019 and now the facility will be used for League of Legends Worlds 2022 Play-ins. Riot Games has included the LATAM Valorant community through the release of various battle passes and collection skins. Riot has done its part of representing and including all communities, it is up to us to be proud and represent our own community and not diminish ourselves. Esports is growing every day and it is only a matter of time before LATAM creates big news in the esports world.