League of Legends Clash 2023 Rewards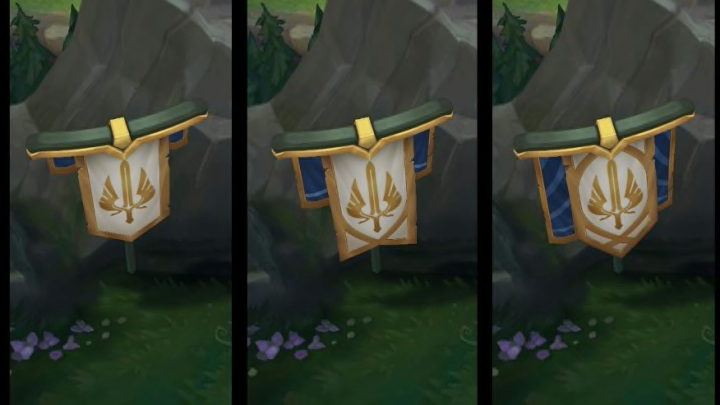 Riot Games
The return of League of Legends Clash finally came this past weekend, as there was a major delay for the first Clash tournament in 2023. These tournaments usually occur on a regular basis throughout the year, but Riot ran into some issues that took a while to get resolved. These problems are solved now, so players can look forward to more consistent Clash tournaments for the rest of the year.
Since Clash is one of the most popular rotating game modes in League of Legends, it is important that players know all the rewards possible from playing in the tournaments.
League of Legends Clash 2023 Rewards
The most obvious reward for playing in the tournaments is the Clash trophy that is awarded to the winner. These trophies will change in appearance based on the theme of the tournament, and these will be visible in your game's client.
Players can also earn Victory Points (VP) by participating in Clash tournaments, as you can earn 200 VP each time you win a Clash game. Players can unlock team logos and banners with this VP, and players can earn bonus VP after their first Clash win based on the tier they are playing in. Tier four does not get a bonus because it is the lowest skill level, but tier three acquires 50 bonus VP. Tier two gains 100 bonus VP after a first win, and tier one obtains 150 bonus VP.
The final rewards that are available to Clash participants are orbs and capsules. The rewards from these orbs and capsules entirely depend on the place your team finished, and whether you used a premium or basic ticket.
Basic Ticket Orb Rewards:
8th Place - Three win experience boost and one logo
7th Place - Mystery icon and one logo
6th Place - Mystery icon and one logo
5th Place - 640 ward skin, mystery icon, and one logo
4th Place - 640 ward skin, mystery icon, mystery emote, and one logo
3rd Place - 640 ward skin, mystery icon, mystery emote, one basic ticket, and one logo
2nd Place - 640 ward skin, mystery icon, mystery emote, 975 skin shart, one basic ticket, and one logo
1st Place - 640 ward skin, mystery emote, 975 skin shard, 1350 skin shard, one chibi icon, one basic ticket, and one logo
Premium Ticket Capsule Rewards:
8th Place - One basic ticket, 500 Orange Essence (OE), 750 skin shard, and one logo
7th Place - One basic ticket, 500 OE, 750 skin shard, 975 skin shard and one logo
6th Place - One basic ticket, 500 OE, 750 skin shard, 975 skin shard, and one logo
5th Place - One basic ticket, 500 OE, 750 skin shard, 975 skin shard, 1350 skin shard, and one logo
4th Place - One basic ticket, 750 OE, 750 skin shard, 975 skin shard, 1350 skin shard, and one logo
3rd Place - One basic ticket, 750 OE, 750 skin shard, 975 skin shard, 1350 skin shard, 1820 skin shard, and one logo
2nd Place - One basic ticket, 750 OE, 750 skin shard, 975 skin shard, 1350 skin shard, 1820 skin shard, and one logo
1st Place - One basic ticket, 750 OE, 750 skin shard, 975 skin shard, 1350 skin shard, 1820 skin shard,1 chibi icon, 10 Mythic Essence, 1350 skin, and one logo