League of Legends Mastery Chart: How to See Your Most-Played Champions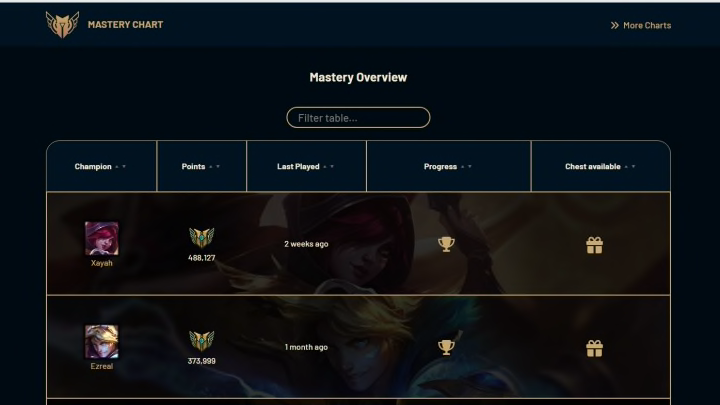 Mastery Chart
League of Legends has been around for nearly 15 years, and has evolved to include so many diverse and interesting champions during that time frame. In total, Riot Games has released 162 champions since the game's initial release in 2009.
With so many playable champions in the game, it can become difficult to keep track of which characters you've played and how frequently you've played them. There is a collection tab within the League of Legends client that shows your mastery scores for champions, but this is a little bit more tedious than just having a website to check it for you.
League of Legends Mastery Chart: How to See Your Most-Played Champions
There is a website called Mastery Chart that will have everything related to champion Mastery Points laid out in an easily legible way, similar to how there are websites that pertain to viewing your match history. All you have to do is get to the Mastery Chart website and type your summoner name to access the information.
There is a nice feature that changes the champion icon's size based on the Mastery Points collected on a specific character. There is also a great feature accessible within the League of Legends client, which tells you how long it has been since you last played a specific champion. The website also has a progress bar to keep track of when your mastery level for a champion will increase, and it indicates whether a chest is available for a character.
With the new ranked season just getting started, players can easily look at the characters they have the most experience with and climb the ladder. Although, players might want to check out the upcoming patch update that may shift the meta away from popular champions.