League of Legends Worlds 2020 Semifinals Preview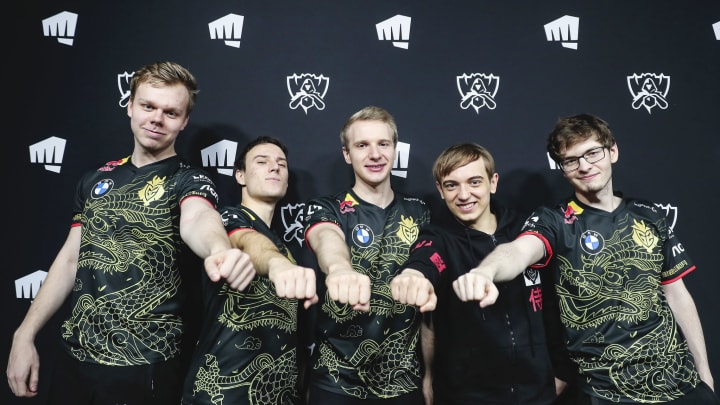 League of Legends Worlds 2020 Semifinals Preview / Photo courtesy of Riot Games
The League of Legends Worlds 2020 Semifinals is scheduled to begin with DAMWON Gaming vs. G2 Esports on Saturday, Oct. 24. This match will be followed up on Sunday, Oct. 25 with Suning vs. Top Esports.
DAMWON Gaming vs G2 Esports League of Legends Worlds 2020 Semifinal Preview
G2 dominated in their quarterfinal match up against Gen.G. Game one showed their early game strategy of focusing on lanes and pressuring with the jungle paid off. They went down on drakes and towers early, but were up in kills. Games two and three used the same strategy, but Gen.G simply couldn't keep up. G2 switched their team compilation to allow for mobility to lock down Gen.G.
DAMWON completely controlled game one against DRX with a constant gold and drake lead. Game two offered a different story as DAMWON fell behind in gold and objectives. The tide turned when a team fight in the mid lane was cleaned up by DAMWON and they took back control of the game by securing Baron and a drake. Game three showed a strong DAMWON take control with very little push back.
The matchup between DAMWON and G2 offers two teams who aren't afraid to bide their time and make sacrifices early to control the game later. The key to winning for either side will come down to maintaining composure and keeping any loss to a minimum to allow them to close the gap later and finish off their opponent for the win. Whichever team manages to take the lead early is going to need to look to extend their lead quickly.
Suning vs Top Esports League of Legends Worlds 2020 Semifinal Preview
Suning fell to JDG in game one of their quarterfinal series after a long and hard fought game. Game two showed a much stronger Suning as they ran down JDG. Game three was about the same as game two aside from a Suning misstep on a poorly fought team fight that gave JDG Baron and some life, but they managed to recover and finish them off a few minutes later. Game four was close, but with a few miss plays from JDG and complete dragon control from Suning, the game ended at just under 27 minutes.
Top Esports found themselves in a full five-game battle against Fnatic. Fnatic claimed games one and two with poor play from Top Esports bot lane, though they were close fought matches. Game three was a momentum changer as Top Esports dominated and and took the win. Game four tilted the momentum even further as Top Esports secured Baron and managed to win the game off it. The sudden death game five ended with the first ever reverse split at League of Legends Worlds as Top Esports took control of team fights and jungle objectives to secure the win.
Suning is going to need to dominate the bot lane and ensure they keep their own bot late alive in team fights. If Top Esports manages to hang around to the late game, Suning will have a really rough time maintaining control. Top Esports thrives on taking an early lead and punishing their opponents with it, but are able to keep composed into the late game and wait for the perfect moment to strike the final blow.