LEAK: Loba Prestige Skin Coming to Apex Legends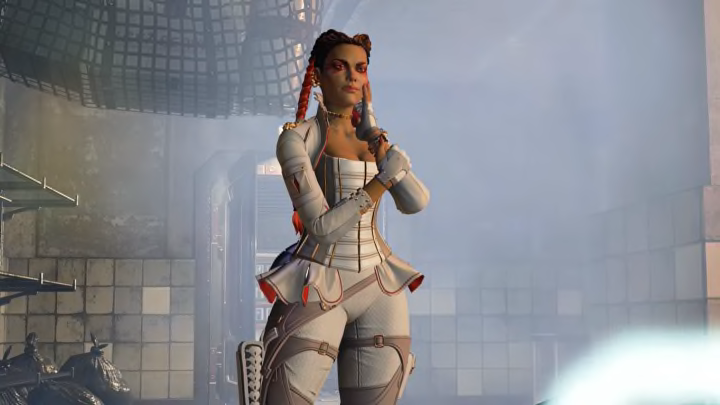 A Loba Prestige skin is coming to Apex Legends. / Respawn Entertainment
New leaks suggest a Loba Prestige Skin is coming to Apex Legends in the near future.
The Apex Legends community is looking forward to the upcoming final Collection Event in Apex Legends: Resurrection. To celebrate Halloween, Respawn Entertainment is releasing exclusive holiday-themed skins, rewards, and even the leaked Revenant Prestige skin in Fight or Fright 2023.
Beyond the upcoming drops, there could be a highly anticipated Prestige skin coming at the end of 2023.
LEAK: Loba Prestige Skin Coming to Apex Legends
According to reliable Apex Legends leaker, HYPERMYST, a Loba Prestige skin is on its way to Apex Legends. The report claims, "The Loba Prestige Skin is being worked on and is almost finished."
The original leak, though, comes from a playtester, causing some fans to question the validity of the news. In response to one X user questioning if the news is a lie, HYPERMYST replied, "Nope, I don't think so. He confirmed some stuff that I already knew which only few people knew about."
Presumably, players will be able to get the Loba Prestige skin through an upcoming Collection Event or by purchasing the cosmetic from the Mythic Store for 150 Heirloom Shards.
Apex Legends Loba Prestige Skin Release Date
As of now, there is no release date for the rumored Apex Legends Loba Prestige skin. With Apex Legends: Resurrection ending in just a few weeks, the earliest we could see the skin is in Apex Legends Season 19, set to launch in early November 2023.
Much about the next major Apex Legends update is still unknown beyond possible new POIs coming to Storm Point. The addition of a Loba Prestige skin could add some much-needed excitement to Season 19.
What is Loba's Pick Rate in Apex Legends Season 18?
According to Apex Legends Status, Loba's pick rate in Apex Legends Season 18 currently sits at 4.7%. The Support Legend rounds out the top ten most popular Legends in the game, behind fan-favorites like Octane, Bangalore, Horizon, and more.
If Loba is indeed getting a Prestige skin in the next Apex Legends season, then her pick rate will surely skyrocket. After Respawn Entertainment released Heirlooms for Revenant Reborn and Fuse, the two Legends jumped into the top five (Revenant even held the top spot at one point) for the majority of Apex Legends: Resurrection.
Loba could be in for a huge increase in notoriety come Apex Legends Season 19.