Luis Muriel FIFA 22: How to Complete the Showdown SBC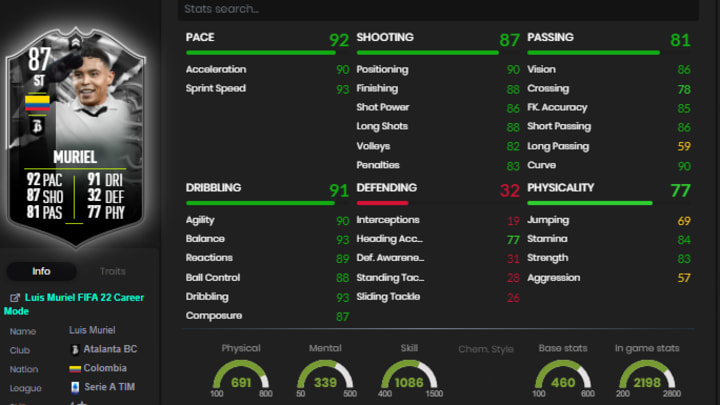 Photo by FUTBIN
Luis Muriel FIFA 22 Showdown SBC went live Jan. 12 alongside a Matteo Darmian item as Inter is set to face off against Atalanta in the Serie A.
Showdown SBCs are some of the most exciting content drops in FIFA Ultimate Team. EA Sports highlights a premier match in world football and gives special items to a player from each team. Each card has the opportunity to upgrade depending on the match result. The player from the winning team receives a +2 overall upgrade, while the losing team's item doesn't get an upgrade. If the two teams draw, then both cards receive a +1 overall.
Luis Muriel FIFA 22: How to Complete the Showdown SBC
Here's how to complete the Showdown Muriel SBC in FIFA 22:
Segment 1
# of Players from Bergamo Calcio (Atalanta): Min. 1
Team of the Week Players: Min. 1
Squad Rating: 82
Team Chemistry: 75
# of Players in the Squad: 11
REWARD: Small Prime Gold Players Pack
Segment 2
# of Players from Serie A: Min. 1
Team of the Week Players: Min. 1
Squad Rating: 86
Team Chemistry: 65
# of Players in the Squad: 11
REWARD: Rare Electrum Players Pack
Showdown Muriel is initially coming in around 145,000 coins to complete from scratch. At first glance, especially with the leaks, fans weren't too excited about this Showdown drop. But, after looking at the two cards, fans might be inclined to complete one or the other. These SBCs have the added caveat that players need to take into consideration the real life outcome of Atalanta and Inter.
Inter has only lost one game domestically this season sitting one point above AC Milan in Italy. Also, Inter has a game in hand. Atalanta has an eye on fending off Juventus for that fourth Champions League spot sitting three points in front of Juventus with a game in hand. This game has major implications on how Serie A will look for the second half of the season.
Inter and Atalanta already played this season back on Sept. 25, 2021 with the match finishing in a 2-2 draw at Inter's ground. Atalanta hopes for a better result this time around at Gewiss Stadium.
Muriel has a decent card right now, but he probably won't unseat other top striker items right now. With an upgrade though, he could prove to be one of the best cards in the league.
Showdown Muriel expires Jan. 16.