Meloetta Pokémon GO Announced: Latest Details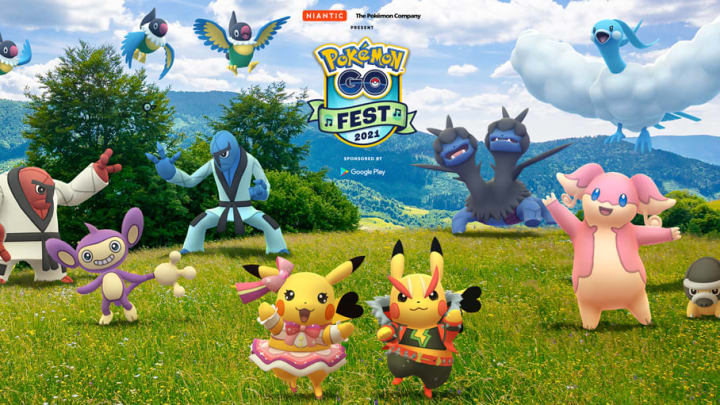 Meloetta, the Melody Pokémon, will be taking center stage during Pokémon GO Fest 2021. / Photo courtesy of Niantic
Meloetta in Pokémon GO is making major noise among trainers as Niantic has officially confirmed that the Melody Pokémon will be the featured Mythical Pokémon at the global GO Fest 2021 event this July.
Here's the latest on the Meloetta Pokémon GO announcement.
Meloetta Pokémon GO Announced: Latest Details
As the Melody Pokémon, which seamlessly ties into the GO Fest 2021 theme—a music festival with trainers as the directors of the show—Meloetta will be taking center stage during Niantic's music festival event.
On June 14, Niantic took to Twitter to make the announcement, not only showing off Meloetta on full display in the Pokémon GO Fest 2021 key art, but also giving trainers a sneak preview of one of the in-game songs composed by Junichi Masuda for this year's in-game festival.
Celebrating not only the fifth anniversary of Pokémon GO, but also the 25th anniversary of the Pokémon franchise, this year's fest has an official sponsor in Google Play to set the stage.
Hourly habitats and raids will also be at the forefront of the event. Additionally, there will be chances to encounter the shiny versions of Unown F, Throh and Sawk in-game for the first time.
Tickets to participate in the event are $4.99 USD, honoring Pokémon GO's anniversary number, which can be purchased in the shop tab of the game, a discount from its original $14.99 price.
Those who decide to purchase the event pass will be able to enjoy the music festival's Special Research challenges, participate in the global challenge arena and experience higher encounters of shiny Pokémon in the wild. The second day offers other bonuses as well with more XP and several raid passes available for those who spin gym discs and participate in raids.
Players that do not obtain the battle pass will still be able to access extended lure module times and the special music, as well as other in-game enhancements for items.
Pokémon GO Fest 2021 will run for two days, beginning on Thursday, July 17, from 10 a.m. to 6 p.m., and concluding on Friday, July 18, from 10 a.m. to 6 p.m. local time.