Monster Hunter Rise Amiibo Figures: Everything You Need to Know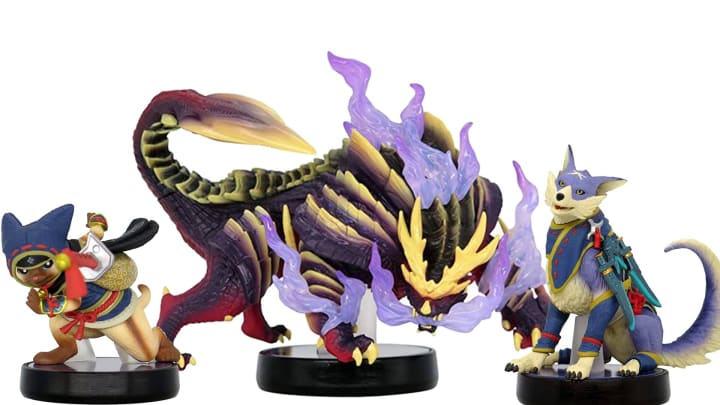 Monster Hunter Rise amiibo figures are collectibles and earn players additional in-game rewards. / Photo by Amiibo
The Monster Hunter Rise amiibo figures are not just collector's items but can also unlock new in-game features. There are three unique amiibo figures that can be scanned in-game to earn rare cosmetics and the chance for even greater rewards.
The three amiibo figures must be purchased separately and are exclusively at Gamestop stores in North America. Players who purchase the Collector's Edition of the game will also receive the Magnamalo amiibo. Scanning any of the three amiibos in-game will reward the player with a specific set of Sinister Seal Layered Armor.
Monster Hunter Rise Amiibo Figures: Everything You Need to Know
There are three amiibo to collect: Palamute, Palico, and Magnamalo. Palamute and Palico are companions that aid players during hunts and resemble a dog and a cat, respectively. Magnamalo is a monster of the game that falls into the Fanged Wyvern class but more closely resembles a terrestrial predator like a tiger or bear.
Amiibos can be scanned by speaking to either Kagero the Merchant or Maido the Merchant. Kagero can be found in the Village Market, while Maido is located in the Guild Store. When speaking to one of these merchants, select the "Read Amiibo" option to scan your figure.
After scanning the amiibo figure, select "Claim Bonuses" to add the armor to your inventory. The Magnamolo amiibo will grant the armor for the player-controlled hunter, while the Palamute and Palico amiibos unlock armor for their respective in-game companions. This armor is purely cosmetic and adds no sort of statistical upgrades for the wearer.
Tapping one of the three amiibos will also enter the player in the amiibo lottery, where they can earn the chance to win rare items that are not typically free. The lottery can be entered up to three times a day, granting the player plenty of chances to earn these rewards. Prizes come in green, blue, and red tiers, with green being the most common and red being the most valuable.
Monster Hunter Rise is the latest installment to Capcom's acclaimed series. It is available on March 26 exclusively on the Nintendo Switch.