My Hero Academia Fortnite Island Codes Listed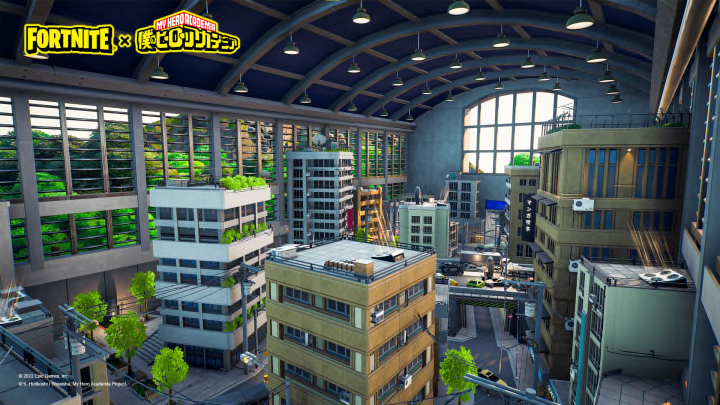 Hero Training Gym in Fortnite. / Epic Games
Fortnite's latest anime crossover, My Hero Academia, has arrived in-game, bringing a brand new Creative island for players to explore.
Crunchyroll has teamed up with Epic Games to bring My Hero Academia to Fortnite. Similar to Fortnite's previous anime collaborations, with Naruto and Dragon Ball, players can test out new My Hero Academia themed gameplay in Fortnite Battle Royale and Zero Build.
Players will be able to use Deku's Smash out in the field, and pick up resources from All Might Supply Drops. The new Hero Training Gym island, built by creator team Zen Creative, lets players choose from one of three classes to go head-to-head in team vs. team combat.
So, how do you access the My Hero Academia-themed island?
How to Access the My Hero Academia Hero Training Gym Island in Fortnite
To access the Hero Training Gym Creative Island, players will need to select the "Hero Training Gym" tile on the Discover screen or input the island code: 6917-7775-5190.
Throughout the Hero Training Gym, players will earn Rescue Points from eliminations or by capturing Rescue Zones, which will appear periodically across the arena. Players who get an elimination will earn one Rescue Point for their team. If a player is able to maintain position in a Rescue Zone for the allotted time, they'll earn five Rescue Points for their team. The first team to earn 100 Rescue Points wins.
Players can earn extra cosmetics in the Hero Training Gym. / Epic Games
Players can also earn some extra in-game cosmetics by completing quests in the Hero Training Gym. Complete the quests before Dec. 29, 2022, at 7 p.m. ET to unlock XP and special items:
Complete the "Assist in Eliminating Opponents on the Hero Training Gym island" quest to earn the Deku Spray.
Complete the "Secure Rescue Points on the Hero Training Gym island" quest to earn the PLUS ULTRA Spray.
Complete a total of four My Hero Academia Quests to earn the Deku's Glove Emoticon.
Complete a total of eight My Hero Academia Quests to earn the U.A. Cape Back Bling.
Want to know which My Hero Academia skins have entered the Fortnite Item Shop? Check out our guide.