NBA 2K22 VC Sale: 20% Off Discount Released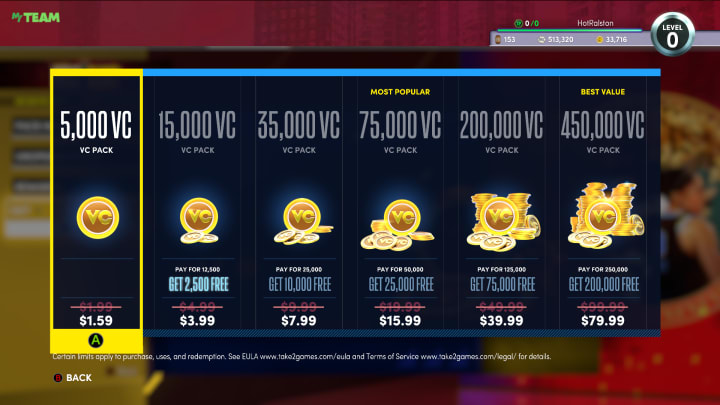 VC is on sale in NBA 2K22 until Feb. 2, 2022. / Image courtesy of 2K
In a surprise move, NBA 2K22 players are able to purchase VC on sale for a limited-time.
As those who play 2K know, VC is one of, if not the defining factor when it comes to setting ones self up for success in-game. As such, it appears this week is the prime time to strike while the iron's hot.
NBA 2K22 VC Sale: 20% Off Discount Released
As announced by the official NBA2K Twitter Thursday morning, VC for NBA 2K22 is on sale for 20% off.
The promo began on Jan. 26, and will run until Feb. 2 in-game.
The discount is also live via digital codes on Amazon, so though seemingly for just 24 hours.
Here are breakdown the current VC discounted prices:
5,000 VC: $1.59
15,000 VC: $3.99
35,000 VC: $7.99
75,000 VC: $15.99
200,000 VC: $39.99
450,000 VC: $79.99
Money talks, especially in games like NBA 2K22 where Virtual Currency, better known as VC, is arguably the most impactful thing players can obtain.
In MyCareer, VC allows players to better trick out their character with a variety of cosmetic items, such as animations and clothing. Most importantly though, VC enables players to upgrade their build's attributes.
Whether you're on your first build or a Rebirth build, having 200,000 VC on hand will make the grind significantly easier.
Of course, in MyTeam, VC allows players to buy the best deluxe packs in the Pack Market.