Which Attributes to Upgrade First in NBA 2K22 MyCareer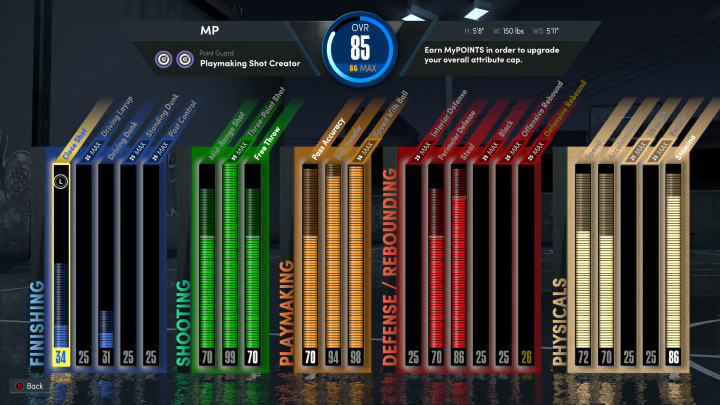 Wondering which attributes to upgrade first in NBA 2K22 MyCareer? Look no further. / Photo courtesy of Ralston Dacanay, 2K
When starting with a fresh MyPlayer build in NBA 2K22 MyCareer, most players know that the journey to 99 overall is long, tiring and, most importantly, costs a ton of VC.
For those wondering what are the essentials to aim for from the get-go, here's a breakdown of which attributes to upgrade first in NBA 2K22 MyCareer on Current Gen and Next Gen.
Which Attributes to Upgrade First in NBA 2K22 MyCareer
As most veterans of the virtual basketball franchise know, just as not all Jump Shot animations were created equal, not all attribute categories were either.
Thanks to those in the community who have taken it upon themselves to do meticulous testing of the "under the hood" effectiveness of NBA 2K22's various animation, Badge and attribute offerings, such as NBA2KLab and NBA 2K Tutes, we are able to know that there are a lot of those where a "sweet spot" exists.
Instead of going overboard in maxing out one area, players can thus save time and money by being aware of certain things before investing their VC and limited attribute upgrades.
For those on Current Gen, although you can't specifically upgrade your physicals, pretty much all of the same things still apply thanks to the gameplay being very consistent across platforms this year.
Off the bat, most players should go through the dribble moves, dunk animations and Badges they want in the animations store or Badge screen to see what attribute requirements they need in order to equip them (e.g. Gold Pick Pocket requires a 86 Steal).
After that, it mostly depends on what your build is, but these are generally the most important to upgrade first:
Three-Point Shot (Around an 80 is good)
Driving Dunk (Upgrade as much as you need to get desired dunk animations/Badges)
Pass Accuracy (Bullet Passer is a necessity on Next Gen)
Ball Handle (85 unlocks pretty much all dribble moves)
Speed with Ball (Ignore if a Big Man)
Offensive Rebound
Defensive Rebound
Steal (Max out Pick Pocket as soon as possible)
Perimeter Defense (Affects how fast your player defensively slides)
Interior Defense
Speed (Affects how fast your player sprints without the ball, Mid-60s is the sweet spot for Bigs)
Acceleration (Affects how fast your player speeds up into short bursts/sprints only when dribbling)
Vertical (Upgrade as much as you need to get desired dunk animations)
Free Throw (75 is the sweet spot)