NBA 2K22 Contact Dunk Package Requirements: Height, Driving Dunk, Standing Dunk and Vertical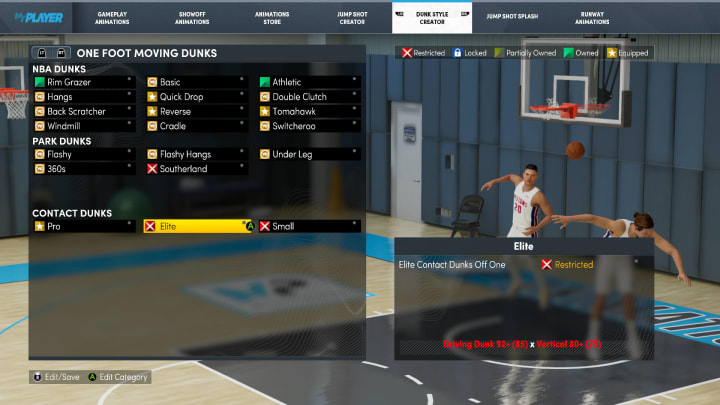 Before pouring in that valuable VC into your Next Gen NBA 2K22 MyPlayer build, here are the Contact Dunk requirements to take note of. / Photo courtesy of Ralston Dacanay, 2K
Before pouring in that valuable VC into your Next Gen NBA 2K22 MyPlayer build, it is extremely important to ensure that you're comfortable with each and every attribute cap you place.
As seen in previous titles in the virtual basketball franchise, maxing out a build takes hundreds of thousands of VC, as well as countless in-game hours to complete. For those who want to make sure they're not missing out on any important hidden thresholds before finalizing their MyPlayer build, here are the Contact Dunk attribute requirements to take note of in NBA 2K22 MyCareer on Next Gen.
NBA 2K22 Contact Dunk Package Requirements: Driving Dunk, Vertical, Height
The longer NBA 2K22 is out, the more the community will inevitably figure out just exactly which Finishing, Shooting, Playmaking and Defense/Rebounding Badges are the best to prioritize, as well as what levels are the most ideal to invest your points in to get the best value.
In the meantime, it's best to make sure your build meets all the attribute requirements for all the Contact Dunk animations you personally would ever want on your MyPlayer.
Two Foot Moving Dunks
Pro Contact Dunks: 84 Driving Dunk, 70 Vertical
Elite Contact Dunks: 92 Driving Dunk, 80 Vertical
Small Contact Dunks: 86 Driving Dunk, 85 Vertical, 6'5" and below Height
One Foot Moving Dunks
Pro Contact Dunks: 84 Driving Dunk, 75 Vertical
Elite Contact Dunks: 92 Driving Dunk, 80 Vertical
Small Contact Dunks: 86 Driving Dunk, 85 Vertical, 6'5" and below Height
Standing Dunks
Pro Contact Dunks: 80 Standing Dunk, 65 Vertical, 6'10" and above Height
Elite Contact Dunks: 90 Standing Dunk, 75 Vertical, 6'10" and above Height
Alley-Oops
Pro Contact Dunks: 84 Driving Dunk, 70 Vertical
Elite Contact Dunks: 92 Driving Dunk, 80 Vertical
Small Contact Dunks: 86 Driving Dunk, 85 Vertical, 6'5" and below Height
Big Contact Dunks: 85 Standing Dunk, 75 Driving Dunk, 60+ Vertical, 6'10" and above Height