Top Games
Best Playmaking Badges in NBA 2K22: Which to Use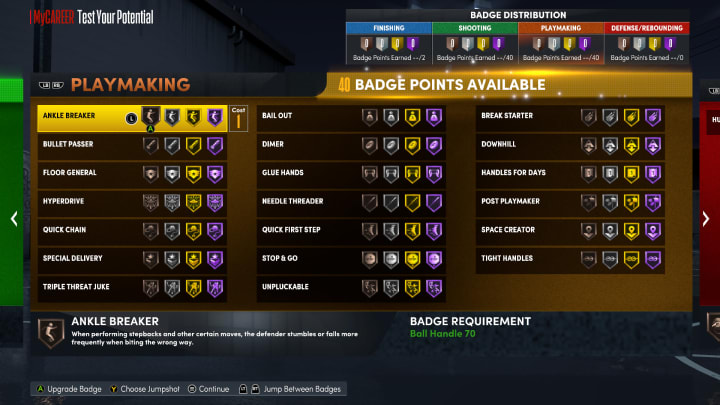 Here are the best Playmaking Badges to use in NBA 2K22 MyCareer on Current Gen and Next Gen. / Photo courtesy of Ralston Dacanay, 2K
For those looking to be able to get to their spots and generate shots consistently in NBA 2K22, it is important that you equip and upgrade the best Playmaking Badges available for your build.
Although having the right ball-handling sigs is one-half of the battle, it can mean next to nothing if your MyPlayer doesn't have the right Badge setup. Here are the best Playmaking Badges to use in NBA 2K22 MyCareer on Current Gen and Next Gen.
Best Playmaking Badges in NBA 2K22: Which to Use
Here are the best Playmaking Badges to equip for your MyPlayer in NBA 2K22, ranked in order of upgrade priority for those still in the middle of the Badge grind:
Quick First Step
Handles For Days
Unpluckable
Quick Chain
Bail Out
Hyperdrive
Bullet Passer
Dimer
Ankle Breaker
Floor General
Tight Handles
Break Starter
Needle Threader
Space Creator
Stop & Go
Triple Threat Juke
Special Delivery
Post Playmaker
Glue Hands
Downhill
To highlight some of the higher-tier Playmaking Badges in the game, I'm going to start with the category's holy trinity — Quick First Step, Handles For Days, and Unpluckable. Quick First Step has remained the first Playmaking Badge I always recommend for others to upgrade first simply because it makes your player faster and more explosive with the ball in general. Meanwhile, especially in this game where Stamina has much more of an impact on your player's shooting, Handles For Days is essential to have as it allows you to chain moves without getting gassed quickly. Lastly, although Unpluckable has been pretty shaky over the years in terms of how much does it actually helps due to bump steals, this is vital to have in NBA 2K22 since defensive builds with higher steal ratings can truly rip the ball with ease.
Two brand-new Badges that appear to have quickly won over the hearts of dribblers in 2K22 are Quick Chain and Hyperdrive. While Quick Chain makes your size-ups even faster, Hyperdrive helps iso players blow by their defenders en route to the rim.
Lastly, a Badge that has been known to be a true bang-for-your-buck option in 2K, Bail Out appears to be as important as ever this year with it being tougher to get separation with iso moves. A cheesy Badge, Bail Out is a great fallback option to have, especially on Silver it seems.
For more on NBA 2K22 MyCareer, feel free to check out our guides on how to get the Gym Rat Badge and the Mamba Mentality Badge, as well as the best Shooting Badges to use.