NBA 2K23 Core Badges Explained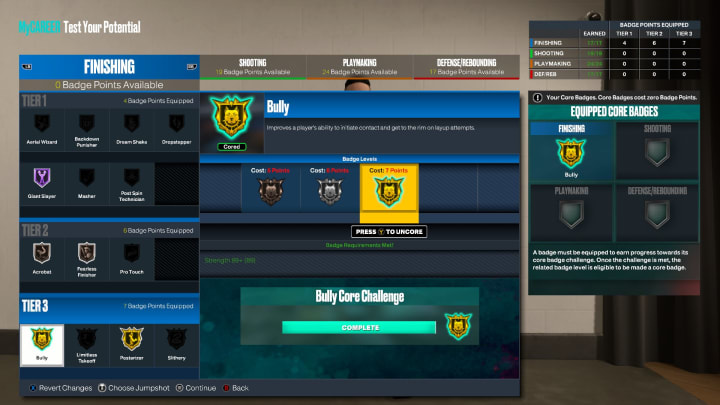 Here's a breakdown of everything you need to know about Core Badges in NBA 2K23 MyCAREER on Next Gen. / Image courtesy of 2K
The MyPlayer Builder in NBA 2K23 Next Gen is likely the most complex iteration we've seen in series history.
Not only are there still underlying Attribute thresholds for Animations, Badges and Badge Levels, but the new Core Badge system complicates things even further. As such, here's a breakdown of everything you need to know about Core Badges in NBA 2K23 MyCAREER on Next Gen.
What are Core Badges in NBA 2K23 Next Gen?
As initially unveiled in the weeks leading up to the release of NBA 2K23, Core Badges are a Next Gen MyCAREER feature that gives players four unique Badge slots (one per Attribute category) that can be filled with Badges that don't count toward their builds' original Badge Point potentials.
Here's where this comes in handy.
If a build has 17 Finishing Badges, they could devote 10 Badge Points to any combination of the Tier 1 and Tier 2 Badges in that category to unlock the Tier 3 Badges, spend their seven remaining Badge Points to equip a Gold Tier 3 Badge, and then equip another Gold Tier 3 Badge for free by "Coring" it. Thanks to the Core Badge, this build would have 24 Badge Points in use as opposed to just the original 17.
NBA 2K23 Core Badge example / Image courtesy of 2K/Screenshot: Ralston Dacanay
How to Complete Core Badge Challenges in NBA 2K23 Next Gen
While this sounds amazing on paper, it's also important to understand that Core Badges do come with a catch — you need to be able to afford it to Core it.
In a perfect world, the feature would simply allow players to Core any Level of Badge as they please, so long as their build is eligible (e.g. Hall of Fame Posterizer).
In actuality, however, players will need to first be able to have the Badge equipped in order to complete its Core challenge.
Each Badge and each Badge Level has its own Core challenge meter. Although the game doesn't specifically explain how to fill the meters up and complete the challenges, players in the community have confirmed that they are completed by simply activating the Badge in-game repeatedly (e.g. NBA 2K17-style).
NBA 2K23 Core Badge challenge example / Image courtesy of 2K/Screenshot: Ralston Dacanay
As such, you need to be able to spend time having the Badge equipped to complete its Core challenge, which then makes it a matter of how many Badge Points you have in that Attribute category.
At the time of publication, it is seemingly still unclear as to whether or not Core Badge challenge progress carries over between Badge Levels. For instance, do you need to have Gold Ankle Breaker equipped in order to complete the Gold Angle Breaker Core Badge challenge, or does simply activating the Silver Ankle Breaker Badge work fine? Furthermore, do you start at Bronze for a Badge's Core challenge and work your way up, or can you skip that if you're using a higher Level of the Badge?
We'll update this article once more information on the topic is released so feel free to check back soon.
In the meantime, to play it safe, if you know your build is capable of having Hall of Fame Tier 3 Badges Attribute-wise and you would want to possibly Core one of them, you should make sure to at least have 18 Potential Badge Points in that Attribute category before finalizing it.
---
UPDATE 9/9/22: Core Badge challenge progress does indeed carry over between Badge Levels, as well as progresses simultaneously for all four of the levels. For instance, while using just Bronze Quick First Step, my Core Badge challenge for Hall of Fame Quick First Step already showed progress. This should give players much more flexibility and safety when making their builds, thankfully.
Quick First Step Core Badge challenge progress example / Image courtesy of 2K/Screenshot: Ralston Dacanay
---
UPDATE 9/21/22: Pacers Gaming confirmed that Core Badge progression does not continue for higher Badge Levels if you use it while Cored on a lower level (e.g. Using Bronze Quick First Step Cored will not continue progression for the Silver Quick First Step Core Badge challenge).
Additionally, Core Badge challenges, unfortunately, will indeed only progress up to the level in which it's equipped. For instance, although you will see progress on the Hall of Fame bar of a Core Badge challenge, at a certain point it will not progress any further until you equip and use it at the Hall of Fame level.
---
NBA 2K23 is available now for PlayStation 4, PS5, Xbox One, Xbox Series X|S, Nintendo Switch and PC (via Steam).
For more on NBA 2K23, feel free to check out: