NBA 2K24 Best Shooting Badges: Current and Next Gen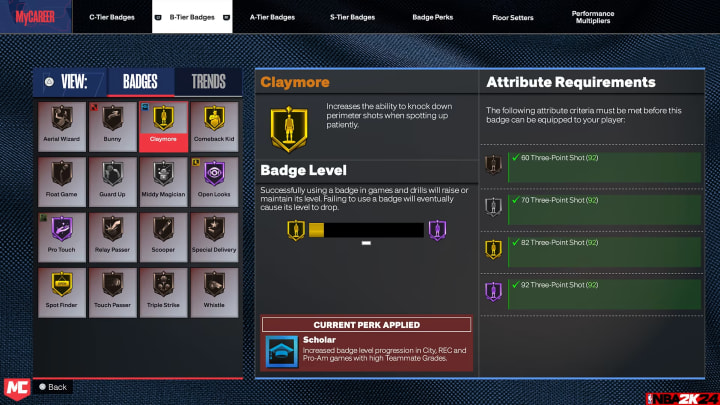 Check out the best Shooting badges in NBA 2K24. / Visual Concepts
Looking for the best NBA 2K24 Shooting badges in Current and Next Gen? We have all the Shooting Badges ranked and explained to give your player the best abilities in MyCAREER.
The badge system in NBA 2K24 looks a lot different than the NBA 2K23 version. Not only are there 24 new badges on Next Gen consoles, but there is also a new MyPLAYER Builder. Players can either scan their face or use one of the NBA player templates to create their MyPLAYER. The improved system splits badges into four tiers, and a badge's usage determines its level.
As you look to dominate the Park, check out all the best NBA 2K24 Shooting badges.
NBA 2K24 Best Shooting Badges: Current and Next Gen
NBA 2K24's best Shooting Badges on Current and Next Gen are:
Agent 3
Limitless Range
Space Creator
Green Machine
Whistle (Next Gen)
Blinders
Catch and Shoot
Float Game (Next Gen)
Claymore
Deadeye
Hook Specialist (Next Gen)
Middy Magician
Spot Finder (Next Gen)
Post-Fade Phenom (Next Gen)
Corner Specialist
Slippery Off-Ball
Free Points (Next Gen)
Open Looks (Next Gen)
Guard Up
Comeback Kid
As NBA 2K24 Season 1 progresses, the rankings for the best Shooting badges are subject to change. In the early days of the game, though, Agent 3 and Limitless Range are still the best Shooting badges.
All NBA 2K24 Shooting Badges Explained
Here's an in-depth look at all the NBA 2K24 Shooting badges, per 2K.
| Badge | Description |
| --- | --- |
| Agent 3 | Improves the ability to make pull-up or spin shots from three point range. |
| Blinders | Jump shots taken with a defender closing out in their peripheral vision will suffer a lower penalty. |
| Catch and Shoot | The receiver's ability to knock down jump shots gets a boost after catching a pass. |
| Claymore | Increases the ability to knock down perimeter shots when spotting up patiently. |
| Comeback Kid | Boosts shooter's mid-range and three-point shot making abilities when trailing in a game. |
| Corner Specialist | Deep range shots taken along the baseline of the court receive a boost. |
| Deadeye | Jump shots taken with a defender closing out receive less of a penalty from a shot contest. |
| Float Game | Improved ability to make floaters and runners while attacking the basket. |
| Free Points | Improved ability to knock down free throws with the game on the line. |
| Green Machine | Gives additional shot boost when consecutively achieving excellent releases on jump shots. |
| Guard Up | Increases the ability to make jump shots when defenders fail to properly contest. |
| Hook Specialist | Increases a player's ability to make hook shots out of the post. |
| Limitless Range | Extends the range from which a player can shoot three-pointers effectively from deep. |
| Middy Magician | Boosts the effectiveness of pullups and spin shots from the mid-range area. |
| Open Looks | Enhance a player's ability to make wide-open jumpers. |
| Post-Fade Phenom | Allows a player to make post-fades and hop shots out of the post at a higher clip. |
| Slippery Off-Ball | Players can better navigate through traffic when attempting to get open off screens. |
| Space Creator | Increases a player's ability to hit shots after creating space and cross up an opponent on step-back moves. |
| Spot Finder | Improves a player's ability to quickly get open and raises the chances of knocking down the shot. |
| Whistle | Improved chance at getting to the free throw line when attacking the rim or shooting a jump shot. |