New Warzone Map Teased for MW3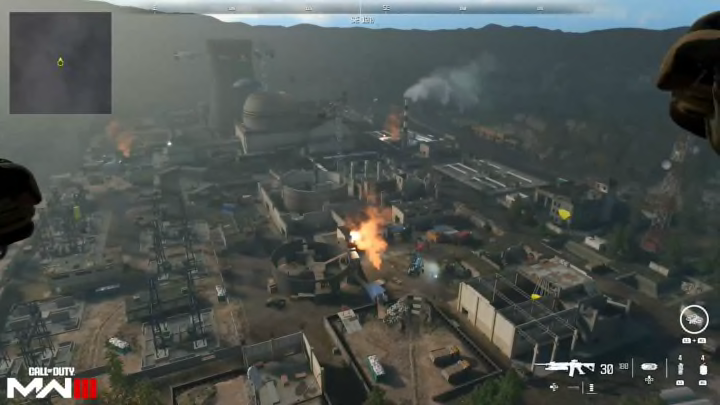 Fans think Sledgehammer Games just revealed a new Warzone map. / Activision
As the hype for Call of Duty: Modern Warfare 3 reaches new heights, Sledgehammer Games might have just teased a new Warzone map coming in the next few months.
More intel and gameplay for Call of Duty: Modern Warfare 3 is being revealed daily by Sledgehammer Games. On top of some much-needed movement changes coming in the new title, Modern Warfare 3 will also include Open Combat Missions in Campaign mode to give players more freedom than ever before.
Although Call of Duty: Warzone will receive a separate upgrade once Modern Warfare 3 releases, the Call of Duty community believes a quick clip from MW3 Campaign teasers could have revealed the rumored new map debuting in Warzone.
New Warzone Map Teased
In an MW3 Campaign gameplay clip released by Sledgehammer Games, a potential new Warzone map is teased. Although the footage is only 10 seconds long, the video unveils possible POIs set to overtake the next Warzone map.
The video shows an Operator jumping from a plane and parachuting above what looks like a new map. The Operator never lands, so it is impossible to get an up-close look of the layout, but the clip does show a handful of buildings that could be new POIs. The map is also surrounded by mountains and full of greenery as opposed to the sands of Caldera and water of Al Mazrah.
Prior leaks regarding the rumored Las Almas Warzone map also revealed the map would have many building POIs in a more Verdansk-inspired design. The leaks also said there would be fewer open fields and more options for regaining, which we can see in the Sledgehammer Games teaser as well.
New Warzone Map Release Date
As of now, there is no set release date for the new Warzone map. A Warzone overhaul will likely come alongside the release of Modern Warfare 3 on Nov. 10 or perhaps a few weeks after. Either way, it will be a few months before we will know if the clip is indeed a new Warzone map or perhaps just a new location in Campaign.