Overwatch 2 Doomfist: How to Play the Rework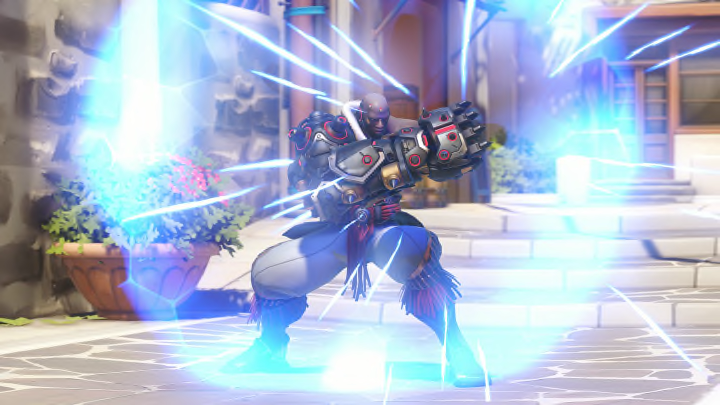 This image shows off the new Power Block mechanic, an important new ability that's vital to getting the most out of Doomfist's abilities / COurtesy of Blizzard
Blizzard recently announced the extensive reworks done to Doomfist in anticipation of his switch from DPS to tank in Overwatch 2. These include cutting out some of his more frustrating abilities like his uppercut, in exchange for damage soaking abilities similar to Brigitte's shield ability.
Here's the basics on how to play the new Doomfist.
Overwatch 2 Doomfist: How to Play the Rework
With Blizzard releasing details of the rework several days ago, the community has blown up in excitement from the discussion.
The main feature of the new Doomfist are his reworked movement abilities in favor of traditional tank abilities, such as his Power Block. This new ability acts as a personal defensive shield that protects him and a small area around him, which pumps more damage and energy into his Rocket punch the more hits he soaks up.
The Rocket Punch itself has received a few nerfs to the damage of it, but allowing it to charge much faster. This builds off the new Power Block mechanic, forcing you to utilize the mechanic in order to maximize the usefulness of the punch.
The Uppercut has been completely removed, in favor of a new movement ability called Seismic Slam, which has been described as being similar to Winston's leap ability. When used, it grants him a short ranged movement ability, and deals damage and slows movement to anyone he hits on impact. This can be used either to help trap an enemy in place for a friendly sniper to take care of, or to be used to line up a perfect Rocket Punch attack on a vital enemy player.
Finally, Doomfist's main attack, his hand cannon, has been reworked to pump out less damage per shot.
Now dealing five damage per pellet hit rather than six, the gun has been reworked to reload much faster, seeming to be utilized more for self defense rather than straight up damage.
Overall, Doomfist's rework has made him a very mobile tank, that can actually deal high damage as long as a player doesn't neglect the new Power Block mechanic.
Hopefully we get more of a taste for his new playstyle when the PVP Beta drops in a few days on April 26.