Pokémon GO Scatterbug Map Explained
By Aaron McIntire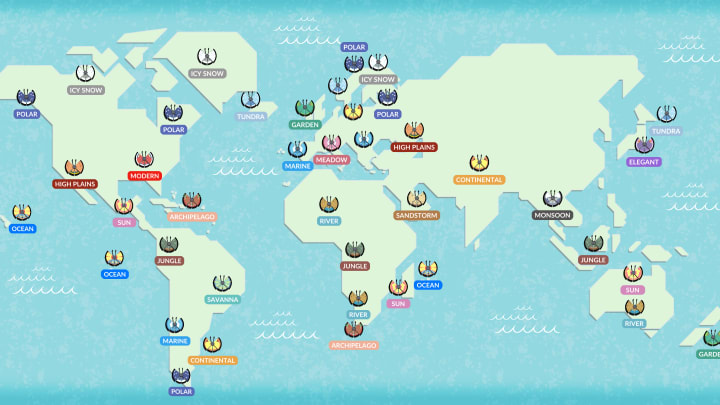 Niantic Labs, The Pokémon Company
Scatterbug, Spewpa, and Vivillon are making their Pokémon GO debut during Season Nine's Mythical Wishes. The debut of generation six Pokémon will feature an event aimed at bridging people across the globe through sending friends postcards. By sending postcards to friends on Pokémon GO trainers will earn a sub medal leading to a Scatterbug encounter.
With 18 patterns around the world to collect, it sounds like quite a challenge. Luckily Niantic included a map to assist with the event.
Pokémon GO Scatterbug Map Explained
The first sub medal a trainer can earn takes three postcards to be pinned for their Scatterbug encounter. There are 18 regions determined by the climate of their habitat. So Polar patterns will likely be found in regions in the colder parts of the world like North America. Here are the 18 regional Vivillon patterns to collect:
Archipelago
Continental
Elegant
Garden
High Plains
Icy Snow
Jungle
Marine
Meadow
Modern
Monsoon
Ocean
Polar
River
Sandstorm
Savanna
Sun
Tundra
With the map provided by the game and other online sources, players should be able to keep up with the changing Vivillon patterns around the world. The tricky part will be finding a friend from each region to send your postcards to.
In the spirit of the event, players are sharing their Pokémon GO friend codes online to help players earn each Vivillon pattern. Some websites like Leek Duck's offers players a pen pal system where they can search a database based on Vivillon patterns to find verified friend codes.
Not everyone has a friend on every corner of the earth and some just prefer to play Pokémon GO solo so it is nice to see the Pokémon GO community come together to help out.