Call of Duty
Prime Gaming Warzone December 2021 Loot: Gator Done Bundle and Scar Tissue Bundle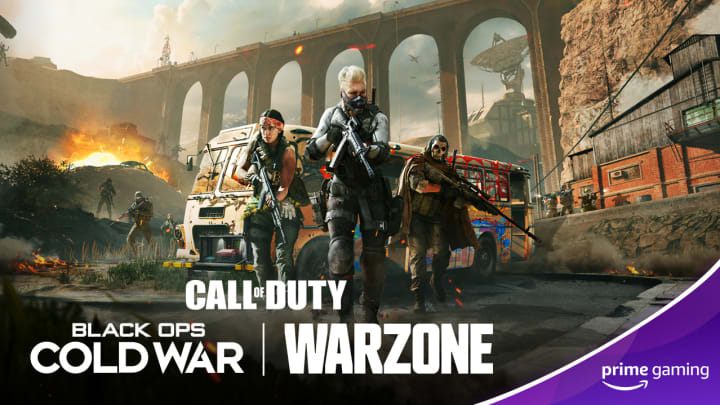 Link your Amazon Prime account to your Call of Duty account to score some premium bundles for free in Warzone. / Image courtesy of Prime Gaming, Activision
The Prime Gaming Warzone loot is out now for the month of December for players looking to score some premium bundles free of charge.
All Call of Duty: Warzone players on PC (via Battle.net), PlayStation and Xbox are eligible for the promotion as long as they are Prime Gaming members, of course.
Prime Gaming Warzone December 2021 Loot: Gator Done Bundle and Scar Tissue Bundle
Prime Gaming and Activision are teaming up once again to offer players two premium bundles during the month of December.
Both of them are from Black Ops Cold War, and can be used in Warzone as well, of course.
The Gator Done bundle usually costs 1,500 COD Points, and includes the Legendary "Maneater" FFAR 1 weapon blueprint, the Epic "Scaled Snapper" KSP 45 weapon blueprint, the Rare "Gator Head" weapon charm, the Epic "Swamp Hunter" calling card, the Rare "Scaled Smile" emblem and the Rare "Mutation" sticker.
Meanwhile, the Scar Tissue bundle is a 2,000 COD Point value and includes the Legendary "Hatchetman" Garcia operator skin, the Legendary "Blood Money" Milano 821 weapon blueprint, the Epic "Aqua Mariner" watch, the Legendary "Tight Rope" finishing move, the Epic "Head Hunter" sticker, the Legendary "Red Ring" reticle, the Epic "Badge of Terror" emblem and the Epic "Fire at Will" calling card.
Before being able to claim the bonuses, however, players will need to link their Amazon Prime account to the account that they play Call of Duty on:
Go to the official Prime Gaming Call of Duty: Black Ops Cold War and Warzone loot website
Select the Gator Done or Scar Tissue Bundle, and follow the instructions to link your Call of Duty account
Once that's done, the bundle will be automatically granted to your account and accessible in-game
For more on Prime Gaming December 2021, feel free to check out our coverage of the loot for Riot Games titles and GTA Online.