PUBG Goes Free to Play in January 2022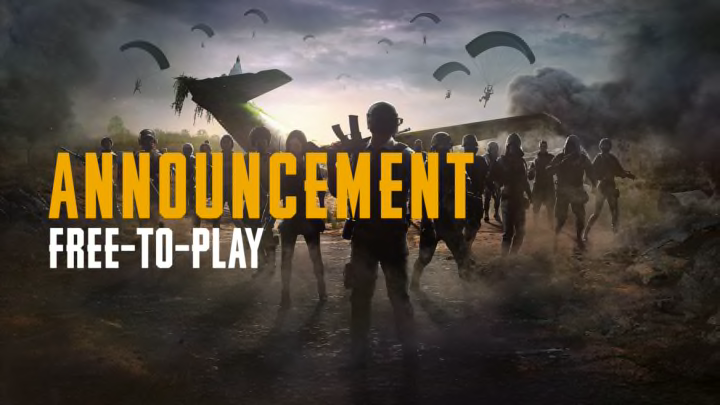 "The only thing better than a Chicken Dinner, is a FREE Chicken Dinner with your friend." / Image courtesy of Krafton
PLAYERUNKNOWN'S BATTLEGROUNDS will be free to play starting on Jan.12, 2022, Krafton announced during The Game Awards 2021 show on Thursday.
The announcement was made in a trailer less than a minute long, recapping how, after five years, eight maps, and over 14 billion hours played worldwide, the battle royale is set to enter its next era with a transition over to a free-to-play model.
With the battle royale genre's other popular titles such as Fortnite, Warzone and Apex Legends all being free-to-play, it should be no surprise that PUBG is taking the steps to be in the same boat soon.
In preparation for when PUBG goes free-to-play in nearly five weeks, eager players on PC (via Steam), PlayStation, Xbox and Stadia can pre-register now at pre-reg.pubg.com, and invite their friends to do so as well.
As a reward for going through the various steps to link their new or existing Krafton IDs with their gaming platform accounts, players can receive a Special Care Package after Jan. 12 that includes a Highside Slick Backpack (Level 1), a Highside Slick Top, and two Preset Slot Coupons (7 Days).
Those who manage to have more than three friends complete pre-registration through their invite links will also be eligible to receive a Highside Slick Lv. 1 Helmet Item and an Iron G-Coin Box Item for all parties involved.
Those who redeem the aforementioned in-game rewards by 6:59 p.m. ET on Jan. 31, 2022, will reportedly also be automatically entered for a chance to win one of Krafton's bonus rewards:
Alienware x15 (PC, 10 Winners)
Xbox Series X (Console, 3 Winners)
PlayStation 5  (Console, 2 Winners)
Razer Kraken (PC & Console, 15 Winners)
10,000 G-Coin (PC & Console, 100 Winners)
While PUBG will be free-to-play, Krafton also plans to offer a premium, one-time purchase upgrade called Battlegrounds Plus.
In exchange for $12.99 USD, Battlegrounds Plus will offer its buyers access to a Survival Mastery XP +100% boost, the Career – Medal tab, Ranked Mode, and the ability to create and play Custom Matches.
Additionally, Battlegrounds Plus will grant players a Captain's Camo Hat, a Captain's Camo Mask, a Captain's Camo Gloves, and a 1,300 G-Coin bonus.
All players who have owned and played PUBG before the free-to-play service transition will automatically receive the PUBG – Special Commemorative Pack, which includes a free Battlegrounds Plus upgrade and various rewards. These will automatically apply to eligible accounts after the free-to-play service conversion.