Apex Legends
'SaveTitanfall' Apex Legends Hack Allegedly Part of Wild Scheme to Revive Cancelled Titanfall Online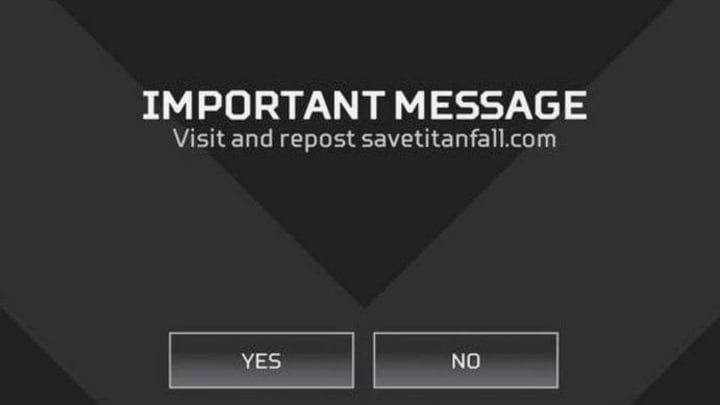 The "Important Message" prompt players would receive after every game, courtesy of the hackers. / Photo courtesy of Respawn Entertainment
July's major Apex Legends hack appears to have been linked to an elaborate scheme to revive the cancelled project Titanfall Online, according to an investigation by the Apex Legends community and subsequent Eurogamer report.
On July 4, 2021, Apex Legends on PC was hacked, displaying the URL "savetitanfall.com" on the home screen. Additionally, at the end of every match, a notification listed under "important message" was sent to players reading "visit and repost savetitanfall.com"
"SaveTitanfall" Apex Legends Hack Allegedly Part of Wild Scheme to Revive Cancelled Titanfall Online
The SaveTitanfall hack left an impression on players, and is likely to be remembered as one of the most bizarre hacks in recent memory.
SaveTitanfall's website has now published a 40-page PDF which includes hundreds of messages and screenshots related to the effort to bring some transparency to the SaveTitanfall name.
Included in the PDF is the revelation that the hackers themselves hoped to revive the free-to-play spinoff Titanfall Online, which was developed for Asian and Eastern markets by Nexon before being cancelled in 2018. They required access to Titanfall's source code to complete this project, which motivated them to perform the Apex Legends hack.
"RedShield," founder of the TF Remnant Fleet community — one of the longest lasting and largest Titanfall 1 communities — denies any accusations of hacking, but admits that "several users very close to us," were involved in "illicit" activities, most of which occurred "outside the server, and was never brought up enough within the server that, with my as-for-mentioned negligent management style, tripped any alarms."
The original Remnant Fleet Discord has been subsequently locked down following the SaveTitanfall hack.
"I have never gone out of my way to crash lobbies in any Titanfall 1 lobby, Titanfall 2 lobby, or Apex Legends lobby," RedShield said. "The only time I've ever been involved with a crash was months ago when a community member asked me to help them test a new exploit they'd found to see if it'd work. A controlled test where only agreeing individuals were involved, for science and documentation. I had no reason to believe it was for malicious intent, nor do I have any reason now."
Other members of the Remnant Fleet community have also been accused of the hacks. Images in the PDF show Remnant Fleet administrator p0358 and another user suspected to be Remnant Fleet member and hacker MrSteyk discussing a hack against a Titanfall 2 streamer.
RedShield told Eurogamer MrSteyk had in fact hacked Apex Legends in the past.
"MrSteyk crashed a few people early on, before it became a wide-spread phenomenon in April, to try to raise awareness that the issue was prevalent in Titanfall 2," he said.
"Or perhaps, with a different motive, like 'live' testing of exploits to see if they work."
MrSteyk has yet to offer a defense, but p0358 denied the accusations made against them via Twitter.
"I did everything I could to save Titanfalls," they wrote. "And now a bunch of liars is persuading the community that I am the very person I fought against, claiming that I am responsible for any Titanfall or Apex attacks. I am not.
p0358 theorized the allegations were part of a "planned attack by a certain group of people," working against Remnant Fleet.
"I do not know their intentions and the reason they have decided to destroy us and everything we worked long months on to build."
The SaveTitanfall project is now reeling from the accusations in the PDF, and it's unclear if it will be able to recover.