Steelhardt Reinhardt Released in Overwatch Anniversary Remix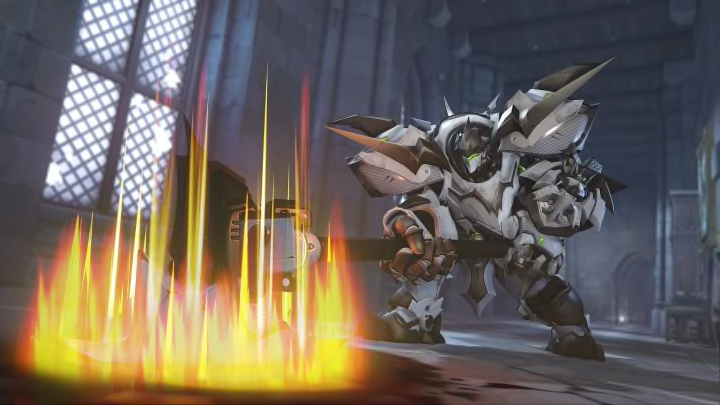 Steelhardt Reinhardt. / Courtesy of Blizzard
Steelhardt Reinhardt is one of six remixed Legendary skins Blizzard has revealed as part of its first Overwatch Anniversary Remix event. It'll be unlocked in-game starting April 5.
Rather than cook up its usual stew of six new Legendary skins for the Anniversary event, Blizzard has opted to take beloved old designs and update them with new colorways. All of these new designs use white as their primary colors, often creating stark differences with the originals.
It may seem underwhelming to some Overwatch players, but it's likely the development team is looking for ways to minimize effort on maintaining Overwatch as development continues full steam ahead on Overwatch 2 — the more resources spent on keeping the original game alive, the fewer can be allocated to Overwatch 2.
Steelhardt Reinhardt. / Courtesy of Blizzard
Steelhardt Reinhardt uses the classic Blackheart and Stonehardt Reinhardt skins as its base. It bleaches Reinhardt's armor, then adds menacing black accents to his shield arm, helmet and sharp pauldrons. His visor and the void in his stomach are a bright lime green.
The five other Legendary Remixed skins include Demon Genji based on Oni Genji, Evermore Reaper based on Nevermore Reaper, Mage Mercy based on Witch Mercy, White Cat D.Va based on Black Cat D.Va and Zealot Zenyatta based on Cultist Zenyatta.
How to Get Steelhardt Reinhardt in Overwatch Anniversary Remix
As is typical of event Legendary skins, Steelhardt Reinhardt can be unlocked through event loot boxes. Those can be earned either through playing the game or by spending real world currency to buy them in bulk. Alternatively, players can spend 3,000 in-game coins to unlock the skin directly.
Overwatch Anniversary Remix runs April 5 to April 26.