Super Mario Bros. Wonder Pipe Park Search Party Guide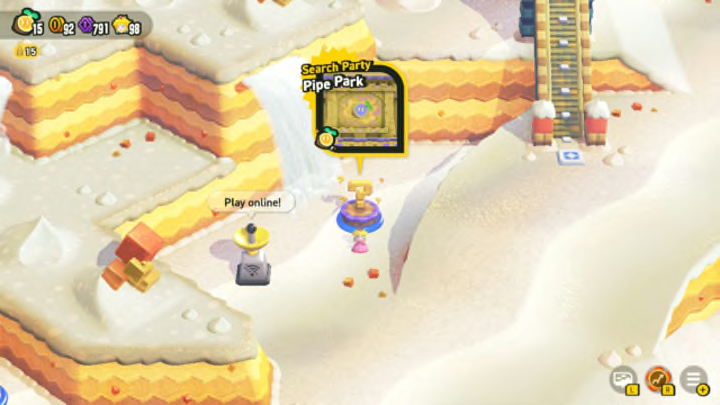 You'll need some brain power for Pipe Park. / Nintendo
Super Mario Bros. Wonder has levels in which players can gain one Wonder Seed by collecting five hidden tokens. These levels require players to explore every nook and cranny of the environment. We've covered how to find all Wonder Tokens in Puzzling Park Search Party. Here's how to find all tokens in Pipe Park.
Super Mario Bros. Wonder Pipe Park Search Party Guide
The first token is at the top left corner of the level. It looks like the stage ends where the tall pipe is, but you can jump over it.
Wonder Token 1 / Nintendo
I suggest standing on the short pipe first and then using the Parachute Cap to overcome the tall obstacle.
The second Wonder Token requires that you enter the pipe Peach is standing on.
Wonder Token 2 / Nintendo
You'll go into an underground area where you'll see a token and pipe that appear bigger than usual. You won't be able to reach the token so easily, though. The character is in the wrong perspective.
Stand on the orange block and face the way Peach is facing in the picture.
Wonder Token 2 / Nintendo
Move forward until you enter a pipe and come out of the one on the pink block. Then, you'll be at the correct viewpoint to grab the coin.
The third Wonder Token is one of the easiest to miss. It's near the middle of the top level and requires you to ground-pound the pipe shown in the picture.
Wonder Token 3 / Nintendo
You'll notice one of the pipes rising. Jump onto the higher one quickly before it lowers again. You'll reach a secret area with the Wonder Token.
Wonder Token 3 / Nintendo
To get the fourth Wonder Token, go into the pipe where Peach is in the picture. It's on the bottom section of the level.
Wonder Token 4 / Nintendo
You come out into a small space with a pullable string. Before touching it, jump up to reveal two blocks. 
Wonder Token 4 / Nintendo
Now, press "B" to pull the rope. There's a token attached to the line, but you'll have to pull tight enough to break it and get the item. You can do this by tugging the rope while jumping and landing on the blocks.
The fifth token is on the top level. Go there and get into the pipe where Peach is.
Wonder Token 5 / Nintendo
You'll end up in the little closed-off area on the side. Push the pipe farthest to the right to reveal the hidden token.
Wonder Token 5 / Nintendo