T1 Suspends Valorant Head Coach for Open Qualifier 2 After DQ Ruling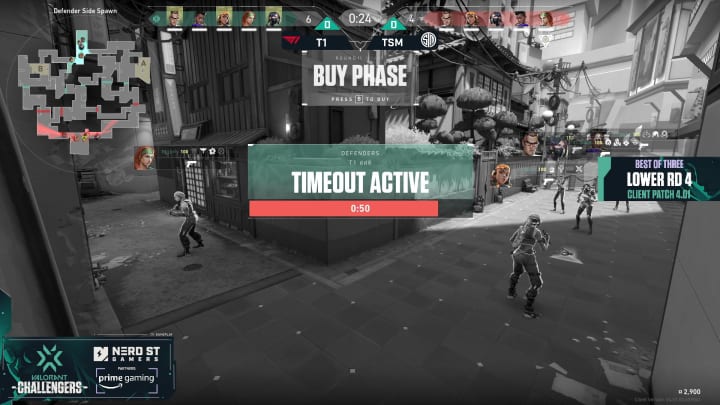 T1 Valorant has suspended head coach David Denis for the upcoming VCT 2022: North America Stage 1 Challengers - Open Qualifier 2 this weekend. / Image courtesy of nerdstreet, Riot Games
T1 Valorant has suspended head coach David Denis for the upcoming VCT 2022: North America Stage 1 Challengers - Open Qualifier 2 for violating Riot Games' ruleset and communicating outside of pauses.
The move appears to be the conclusion of what was an unusual, drama-filled saga for NA Valorant over the weekend, which was highlighted by T1's disqualification against TSM due to Denis providing unauthorized instruction to his players while the match was in progress.
"I want to make it clear that I regret my actions," Denis said in a TwitLonger statement Tuesday. "I did not represent our players, T1, or our fans well, and I'm truly sorry. I will continue to reflect on my actions and ensure that this never happens again.
"The communication logs show that all communication I had with players happened in between rounds or to a player who was already eliminated. This communication consisted of encouraging/supportive statements and general reminders. One exception to this was 'help sewers.' There are no excuses for this - I can only say that I got caught up in the heat of the moment and did not think before I acted. I did not participate in the practice of watching the livestream during a match, or relaying any information to the players that they did not already have."
As broken down by Denis himself in his apology, the blunder was indeed the "help sewer" tip that seemingly was made in-game on all-chat during T1's 13-7 win over TSM on Split.
The mishap was notoriously first made known on Twitter by TSM Subroza, whose call-out went on to prompt Riot to investigate into the matter, and force T1 to forfeit the match altogether.
Of course, this ruling also went on to lead to several entertaining jabs and memes made by some of the pros, most notably from TSM WARDELL and T1 steel, but this wave of transparency from T1 and Denis should hopefully spell that all those involved can and will move on from the matter.
There are four spots left in the VCT 2022: NA Stage 1 Challengers 12-team Main Event up for grabs this weekend in Open Qualifier 2 that both T1 and TSM will have their sights set on.
Thus far, Sentinels, Envy, Cloud9, and 100 Thieves have all qualified via invites from Riot, while Version1, XSET, The Guard, and NRG Esports each successfully secured their berths with Open Qualifier 1.