Top Games
Tower of Fantasy Discord Nitro Special Gift Pack, One-Month Trial: How to Claim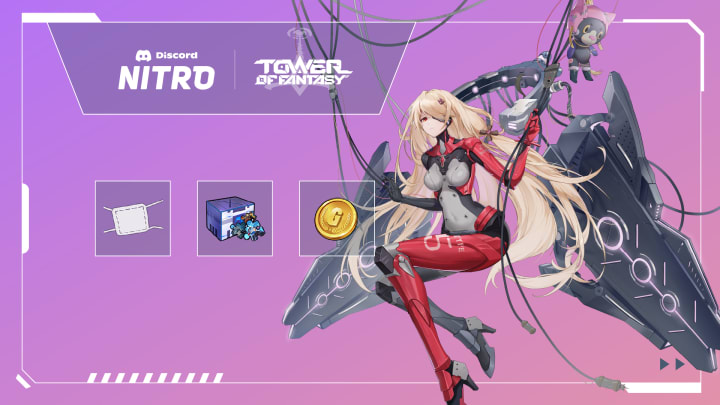 A special gift pack can be had in Tower of Fantasy exclusively for free by Discord Nitro subscribers. / Image courtesy of Discord
In celebration of the worldwide launch of Tower of Fantasy, Discord and Level Infinite announced that they will be giving Discord Nitro subscribers an exclusive in-game gift pack for a limited time.
Additionally, for first-time Discord Nitro users, as well as those currently on a Nitro Classic or Server Boosting-only subscription, a one-month trial of Discord Nitro is available through Tower of Fantasy.
Here's a breakdown of how to claim the Tower of Fantasy Discord Nitro special gift pack, as well as the Discord Nitro one-month trial.
Tower of Fantasy Discord Nitro Special Gift Pack: How to Claim
To claim the ToF Discord Nitro in-game gift pack, you will need to be a current 9.99 Nitro subscriber:
Log onto Discord
Go to "User Settings"
Select the "Gift Inventory" tab
Claim the "Tower of Fantasy Gift" to receive a 10-character key
Log onto ToF
Go to the "Rewards" section
Enter the 10-character key
Press "Claim"
Here's what's included in the ToF Discord Nitro avatar pack:
These free rewards will only be available for a limited time, specifically until Nov. 8, 2022 at 4 p.m. ET, so players interested in picking them up should be sure to redeem the offer before it's gone forever.
Tower of Fantasy Discord Nitro One-Month Trial: How to Claim
For those new to Discord Nitro, a one-month promo trial is available to claim through Tower of Fantasy:
Log onto ToF
Play ToF up until level 6 in order to receive your Nitro offer
Once the offer appears, click or tap "Get It Now" or "Claim Nitro Offer" and follow the steps to receive your promotional Nitro link (Alternatively, head to the ToF promo website)
Paste the link into your browser window
Log into Discord
A new message will ask you to confirm that you are accepting the Nitro subscription on the correct Discord account
Fill out/confirm the necessary payment information
Press "Accept Gift"
This promotion will also expire Nov. 8, 2022 at 4 p.m. ET.
---