Top Games
Tower of Fantasy Summer Fest: Schedule, Rewards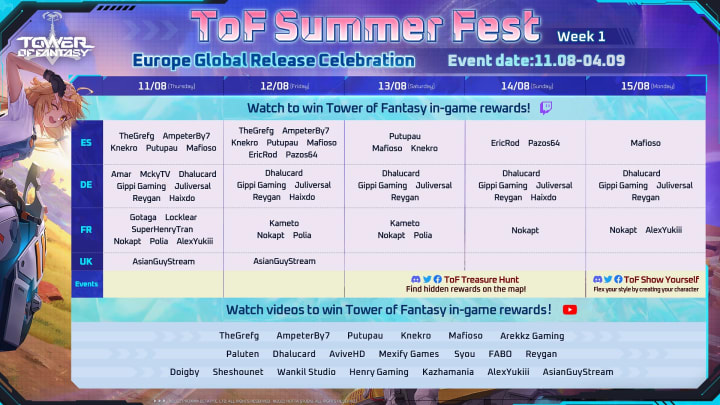 "It's TOF Summer Fest Time!" / Image courtesy of Level Infinite
In celebration of the worldwide release of Tower of Fantasy (ToF), Level Infinite has not only released a promo with Discord, but is also conducting a breadth of global launch special events.
Among the festivities, which include the Twitch Drops-Outposts Challenge, is the ToF Summer Fest. Here's a breakdown of the Tower of Fantasy Summer Fest schedule.
Tower of Fantasy Summer Fest Schedule
The Tower of Fantasy Summer Fest event invites those in Europe to get a chance to win rewards by watching Twitch livestreams and YouTube videos published by partnered content creators.
The Europe ToF global release Summer Fest celebration is set to run from Aug. 11 to Sept. 4, 2022.
Tower of Fantasy Summer Fest Schedule / Image courtesy of Infinite Level
As seen in the schedule graphic shared by publisher Level Infinite, those interested in participating in Week 1 of the event have a variety of Spanish, German, French and English streams to watch on Twitch, as well as numerous YouTube channels to check out.
Additionally, it seems there will be ToF Treasure Hunt and ToF Show Yourself promotions hosted on Discord, Twitter and Facebook for those looking to get connected with others in the community on social media.
Tower of Fantasy Summer Fest Rewards
Sadly, at the time of publication, Level Infinite has yet to specify what exactly the ToF Summer Fest in-game rewards, as well as watch-time requirements, would consist of.
After initially launching in 2021 and finding success with gamers in China, ToF is now officially available worldwide.
Tower of Fantasy is a new anime-style, open-world MMOARPG, drawing comparisons to the likes of Genshin Impact.
Set in a sci-fi world, ToF drops players into a setting where resources have dwindled on Earth leading many to migrate to the world of Aida. Players can explore the world with a host of characters, and also play alongside friends.
---