Vampire Survivors Weapon Evolution Guide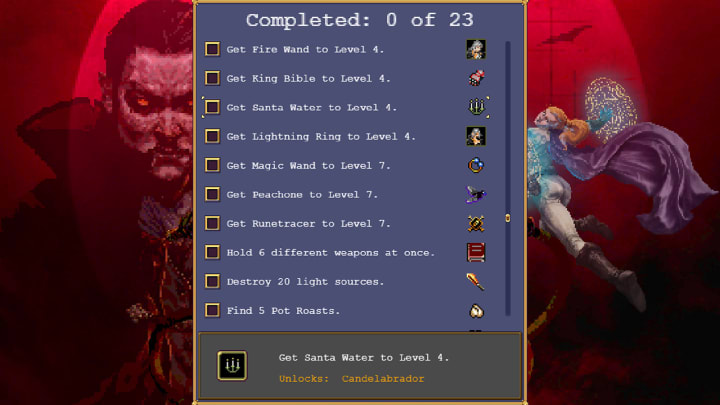 Image courtesy of poncle
Wondering how to pull off weapon evolutions in Vampire Survivors? We've got you covered.
In Vampire Survivors, Evolution is a game mechanic that allows players to change a base weapon to a stronger evolved weapon using a passive item as a catalyst. Evolved weapons usually inherit most of the base weapon stats with extra effects, which makes the gameplay all the more fun, especially in a time-survival game with rogue-lite elements like Vampire Survivors. We've put together a comprehensive guide on how to make every Evolution in Vampire Survivors.
To pull off Evolutions, players must first make sure they fulfill certain prerequisites, some of which the game just does not make obvious.
Here is the general formula that players must follow in order to evolve weapons in Vampire Survivors:
Reach Level 8 with the base weapon they'd like to evolve
Have the Accessory that corresponds to the weapon evolution
Open a Treasure Chest after the timer reaches 10:00
After doing this, the chest will then grant an evolved weapon as its first reward in place of the usual random upgrade.
On evolution, the base weapon is removed and the evolved weapon is added. The passive item remains unaffected.
Here are all of the weapon evolution combos in Vampire Survivors:
Axe + Candelabrador: Death Spiral
Cross + Clover: Heaven Sword
Fire Wand + Spinach: Hellfire
King Bible + Spellbinder: Unholy Vespers
Knife + Bracer: Thousand Edge
Magic Wand + Empty Tome: Holy Wand
Whip + Hollow Heart: Bloody Tear
Garlic + Pummarola: Soul Eater
Santa Water + Attractorb: La Borra
Lightning Ring + Duplicator: Thunder Loop
Song of Mana + Skull O'Maniac: Mannajja
Pentagram + Crown: Gorgeous Moon
Runetracer + Armor: NO FUTURE
Peachone + Ebony Wings: Vandalier
Phiera Der Tuphello + Eight The Sparrow + Tiragisú: Phieraggi
Shadow Pinion + Wings: Valkyrie Turner
Laurel + Metaglio Left + Metaglio Right: Crimson Shroud (the weapon and both items must be leveled up)
Clock Lancet + Silver Ring + Gold Ring: Infinite Corridor (the weapon and both items must be leveled up)
Vento Sacro + Bloody Tear: Fuwalafuwaloo (the whip must be evolved first)
Bracelet: Bi-Bracelet (appears in chests starting at level six)
Bi-Bracelet: Tri-Bracelet (appears in chests starting at level six)
Victory Sword + Torrona's Box: Sole Solution
For more on Vampire Survivors, feel free to check out our guides on how to find Milk Elementals, and how to unlock secret characters.