Call of Duty
Warzone Battle Pass Vault Pack: Greatest Hits Bundle Guide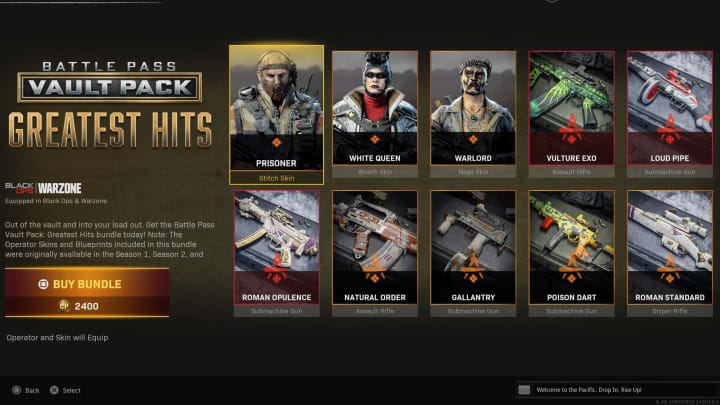 "Out of the vault and into your loadout." / Image courtesy of Activision
The Warzone Battle Pass Vault Pack: Greatest Hits bundle is one of the newest premium collections added to the in-game store with the launch of the 12 Festive Days of Deals event in Season 1.
Alongside offerings focused on NATO and Warsaw operators, assault rifles, SMGs, tactical rifles, and snipers and shotguns, this bundle, in particular, contains a unique assortment of Legendary and Ultra rarity items that were previously only available to those who purchased the Season 1, Season 2, and Season 3 Black Ops Cold War battle passes. Here's a breakdown of what exactly the Battle Pass Vault Pack: Greatest Hits bundle has to offer to Call of Duty: Warzone Pacific players.
Warzone Battle Pass Vault Pack: Greatest Hits Bundle Guide
In exchange for 2,400 Call of Duty Points, the Battle Pass Vault Pack: Greatest Hits bundle includes a collection of late-tier content from the first three Black Ops Cold War Battle Passes for those who missed out on those early offerings:
"Prisoner" Legendary Stitch Operator Skin
"White Queen" Legendary Wraith Operator Skin
"Warlord" Legendary Naga Operator Skin
"Vulture Exo" Ultra FARA 83 Weapon Blueprint
"Loud Pipe" Ultra PPSh-41 (BOCW) Weapon Blueprint
"Roman Opulence" Ultra MP5 (BOCW) Weapon Blueprint
"Natural Order" Legendary Groza Weapon Blueprint
"Gallantry" Legendary MAC-10 Weapon Blueprint
"Poison Dart" Legendary LC10 Weapon Blueprint
"Roman Standard" Legendary Swiss K31 Weapon Blueprint
Overall, this pack seems like it truly does deliver on some of the "greatest hits" of cosmetic offerings from the Black Ops Cold War-Warzone era.
However, as usual with exclusive "OG" items in multiplayer titles, there will undoubtedly be those who raise an eyebrow at the offering considering it's reselling items from old battle passes and costs full price regardless of if you already own any of the stuff in there.