Warzone Gun Tier List May 2020: Best Assault Rifles to Use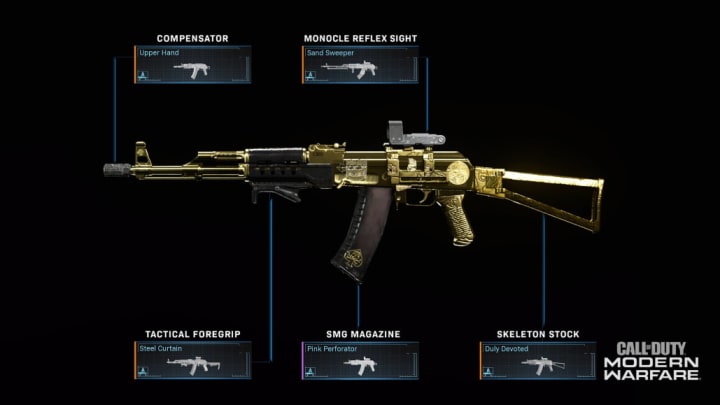 The best assault rifles to use in Warzone as of May 2020. / Photo by Activision/Infinity Ward
Warzone gun tier list May 2020 sees few changes at the top for the best assault rifles in the game.
Call of Duty: Warzone, the free-to-play battle royale released in March, has become one of the most popular titles in the genre. The weapon meta has more or less transitioned from Modern Warfare's traditional multiplayer, but there are some weapons that stand out as the best to use in the assault rifle class in a battle royale setting.
Here are the best assault rifles in Warzone broken down into tiers.
Warzone Gun Tier List May 2020: Best Assault Rifles to Use
Warzone S Tier Assault Rifles
The M4A1 is undoubtedly the most popularized AR in Modern Warfare across all modes. It's showcased in Call of Duty League matches just how strong the rifle is in professional hands. It's no surprise it would transition over to Warzone, but the Grau rose to popularity in Warzone. The gun's low recoil, strong iron sight and damage at all ranges makes it a force with the right attachments.
Warzone A Tier Assault Rifles
The M13 has a high fire rate and strong damage outside of what the top two in the game offer. Popular streamers to a liking to the gun, especially on PC where it's easier to control recoil. It's good, but not quite good enough to be considered in the elite.
Warzone B Tier Assault Rifles
The four assault rifles in the B tier just are decent at one particular thing, but don't offer much outside of their unique factors. The SCAR was a popular world drop in the early part of games from crates, but has since been removed in Modern Warfare Season Three for the M4A1 and other weapons. The Oden has a ton of damage but kicks like a horse.
The Kilo 141 is alright all-around, but not better than the M13 or S tier weapons. The FAL is an interesting weapon. It shreds enemies with quick trigger fingers, but it has insane recoil. Special blueprints found in the wild like the Stormcloud offer benefits, but not much to push it up the rankings.
Warzone C Tier Assault Rifles
Burst assault rifles usually are at the top of lists in Call of Duty titles. Even more so considering Infinity Ward titles where guns like the M16 and FAMAS were the most popular. Although, the FR 5.56 just falls short of being relevant in Warzone. Players will do damage if bursts land, but the gun gets outclassed by the fully automatic weapons in the class.
Warzone D Tier Assault Rifles
The AK-47 is in major need of a change in Modern Warfare and Warzone. The gun has a low fire rate and ridiculous recoil to be relevant compared to any other guns in the class. Avoid this assault rifle when building loadouts and looting in-game drops.