Call of Duty
Warzone Players are Furious with Raven for Invisibility Skin Inaction, Among Other Issues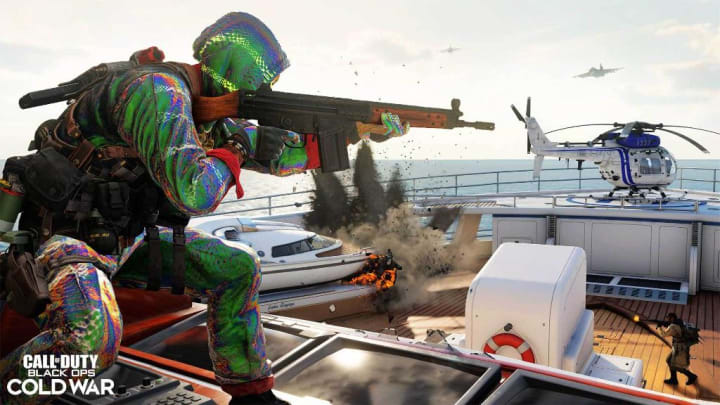 Call of Duty (COD): Warzone players are fed up with no fix or acknowledgment of a game-breaking invisibility bug with one of its battle pass skins... / Activision
Call of Duty (COD): Warzone players are fed up with no fix or acknowledgment of a game-breaking invisibility bug with one of its battle pass skins—drawing accusations of a "pay-to-win" model.
According to player reports, this bug has been in the game since mid-December 2021. When players equip the latest battle pass tier 100 skin, they turn invisible beyond 30 meters from any other player. This has sparked accusations of the game becoming "pay-to-win" due to the battle pass' paid nature. Obviously, the bug has become a big issue since it essentially breaks the game for an extra $10.
Warzone Players Call Out Developers for Long-standing Invisibility Bug
The CODWarzone subreddit is one of the hotbeds of player aggression with several posts detailing this—and other—glitches. Regardless, by far, the "invisibility skin" is the most discussed issue.
One user, Km_the_Frog, suggested players band together and quit the game, writing "Activision knows they can get away with a busted game. They think people are stupid and they'll just keep buying their games." Though they noted shortly afterward that players seem to continue playing despite the issues.
"Why fix it if chumps will still play the game?" ZeldaALTTP wrote, "I logged on yesterday for the first time in weeks and the game is worse than ever, but the lobbies are full."
Others petitioned for players to give Raven Software, the studio, a break since they weren't truly in charge of the property—Activision was. One wrote: "[Raven] didn't even create [Warzone] while working for a behemoth like Activision. There are massive issues with the game, but working for Activision doesn't seem like a conducive environment for making a functional game."
Another brought up the fact that Raven's staff was currently on strike due to a variety of issues including their treatment and, of course, the litany of allegations unfolding at ActiBlizz.
The ire goes all the way to the top with notable community members like James "JGOD" Godoy commenting on how developers took holiday vacation while the game continued to be broken.
"It's unacceptable for a triple-A studio...to allow [these] types of issues. Like no, you can't go on vacation." He said, "I know that's insensitive but...you can't leave your game broken for a month."
Raven Software still has not acknowledged the bug or posted about it on its official Trello board at the time of writing. The closest listing on its "Issues | Global" thread is a Dec. 8 note about "Some Players are experiencing visual inconsistencies with Weapon and/or Operator models."