FIFA
When do FIFA 22 Showdown Cards Upgrade: Zinchenko and Fernandez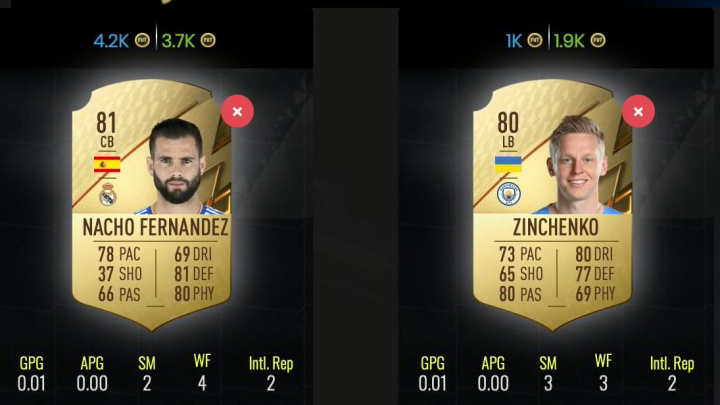 A new Showdown SBC set features Oleksander Zinchenko and Nacho Fernandez / Photo Courtesy of FUTBIN
EA Sports released a Showdown SBC set in FIFA 22 on Friday, April 30, featuring Manchester City's Oleksandr Zinchenko and Real Madrid's Nacho Fernandez, for their teams' match-up on Wednesday, May 4. Manchester City won their first leg 4-3, and are going to Spain with the chance to knock Madrid out of the Champions League and reach their second consecutive final.
The player from the winning team receives a +2 boost, while the loser stays the same. If the two teams draw, both players receive a +1 overall boost. Both Zinchenko and Fernandez would receive the plus one upgrade if the game goes to extra time and penalities.
The SBC is still available to complete until Wednesday prior to the game. Here's when the cards will likely be upgraded.
When do FIFA 22 Showdown Cards Upgrade: Zinchenko and Fernandez
The FIFA 22 Showdown SBC players can be upgraded at any time after their match's result, depending on EA Sports' urgency to upgrade them. With the Showdown Fernandez and Zinchenko, they can possibly be upgraded along with Thursday's 1 p.m. content or during Premier League TOTS this weekend.
We'll have to wait until Wednesday after the game to see which player will get the upgrade, and which teams will make the Champions League 2022 Final.