When Does Valorant Champions Tour 2024 Start?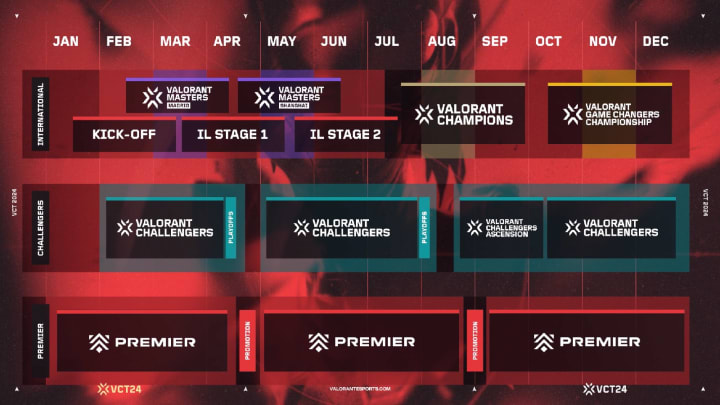 Here's the full schedule for VCT 2024. / Riot Games
Fans excited to see the start of the Valorant Champions Tour 2024 will have to wait a few more months.
After an action-packed season, VCT Champions 2023 crowned North America's Evil Geniuses the new Valorant World Champions. Just a few weeks later, Riot Games announced significant changes to VCT 2024's schedule, format, and teams, including China's very own VCT league.
Here's a breakdown of the full VCT 2024 schedule.
When Does Valorant Champions Tour 2024 Start?
The Valorant Champions Tour 2024 starts in January 2024. Although Riot Games has not announced specific dates just yet, they revealed the VCT 2024 Kick-Off Tournament begins in January with a two-week tournament in each International League.
The VCT 2024 Kick-Off Tournament features a double elimination format. At the conclusion of the first event, eight teams will book their ticket to VCT Masters Madrid.
"We have an incredibly passionate community in Spain," said Leo Faria, Global Head of Valorant Esports. "We cannot wait to bring everyone together to witness the unique energy of the Spanish crowd."
Once VCT Masters Madrid kicks off, the VCT 2024 season is officially underway.
Valorant Champions Tour 2024 Schedule
The full schedule for the Valorant Champions Tour 2024 is as follows:
VCT 2024 Kick-Off Tournament: January-February
VCT Masters Madrid: March
International League Stage 1: April
Valorant Masters Shanghai: May
International League Stage 2: June
Valorant Champions: August
All Confirmed Valorant Champions Tour 2024 Teams
Check out all the confirmed Valorant Champions Tour 2024 teams after the recent VCT 2024 expansion.
VCT 2024 Americas Teams
100 Thieves
Evil Genisuses
FURIA Esports
G2
KRU Esports
Levitatan
LOUD
MIBR
NRG Esports
Sentinels
VCT 2024 EMEA Teams
BBL Esports
Fnatic
FUT Esports
Gentle Mates
Giants
Karmine Corp
KOI
NAVI
Team Heretics
Team Liquid
Team Vitality
VCT 2024 Pacific Teams
DetonatioN FocusMe
DRX
Gen.G
Global Esports
Paper Rex
Rex Regum Qeon
T1
Talon Esports
Team Secret
ZETA DIVISION
Bleed Esports
There will also be eleven teams in the new VCT China League,