World of Warcraft: Dragonflight Interview Round-Up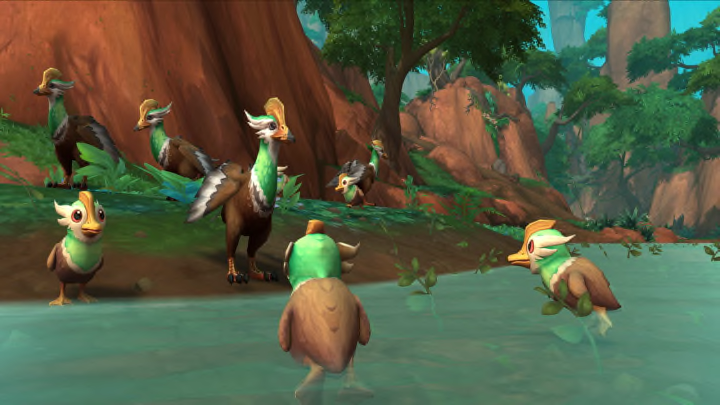 Here's a round-up of some of the various developer interviews Blizzard has taken in recent days in anticipation of the launch of WoW: Dragonflight. / Image courtesy of Blizzard
We've put together a comprehensive round-up of highlights from some of the various developer interviews Blizzard has taken in recent days in anticipation of the launch of World of Warcraft: Dragonflight.
While the name had been leaked and speculated for some time, on Tuesday, the WoW community finally received confirmation that they will soon be heading to the Dragon Isles. This latest expansion promises to bring with it a lot of new content, including a new race, custom dragon mounts, an overhaul of talents, professions, and more.
IGN Interview with Ion Hazzikostas and Steve Danuser
There will be a lot more exploration in Dragonflight than in Shadowlands, but the zone order will remain the same for everyone on their first character
The team thought of the new Dracthyr race early in development as they felt none of the existing classes fit the theme of the race very well
The goal of the new talent system is to allow maximum flexibility and customization and the ability to, once again, be an actual hybrid
As you level up your dragonriding, you will be able to reach certain locations and do things you couldn't with normal flying
The profession revamp allows players to have deep work orders and collaborative crafting that enable them to work and interact socially together to get rare crafting materials and make some of the most powerful items
The team isn't too happy with the current state of Personal Loot and knows there is still a ways to go for improvement
Bajheera Interview with Brian Holinka
The plan for Dragonflight is for players that PvP to get PvP gear, and that those who then want to increase the item level for PvE/world content/WPvP can, but it won't make a difference to PvP item level
The trinket set bonus will stick around for PvP
Cross-faction will be available for rated PvP
The class section of the new talent trees might cause PvP players to choose between defensives or utility
Rated solo queue could release down the line in Dragonflight
The team wants to add more battlegrounds and arenas
The team wants to add more incentives to play War Mode PvP at launch, but they also don't want to incentivize players to grind flight points in War Mode
HazelNuttyGames Interview with Ion Hazzikostas
Dragonflight will feature less "borrowed power," thematic patch-specific systems, with the talent system revamp replacing the customization and flexibility that players previously found in choice-based systems of past expansions
The goal of the new talent system is to grow on it in further expansions with more layers and rows
Reputation hasn't changed or evolved much since 2005, and while aspects of Renown solved some of these issues, the team wants to adapt this to end-game structures in Dragonflight
Earning Renown won't necessarily be the same structured weekly quest like Shadowlands, but more open-ended objectives
Dracthyr will be able to perform the basics of dragonriding in their dragon form from the start, but the upgraded abilities (e.g. reach higher up places or quickly return to town) that players will earn will require using the dragon companion like every other race (using their visage (humanoid) form)
The Dragon Isles will still feature a lot of new mounts for players to collect
Player housing is a massive project that has support for it from within the team, but would likely take multiple expansions to get it right
Dragonflight will launch with eight dungeons, with Season 1 Mythic+ comprised of four Dragonflight and four previous expansion dungeons (probably not Shadowlands early on due it to being so recent)
The goal is to have four Dragonflight dungeons and four older dungeons rotated in for Mythic+ every season
At the time of publication, the Dragonflight expansion doesn't have a set release date. In the meantime, players can register their interest to join the beta test ahead of the release.