WWE 2K22: 5 Best Fighter Superstars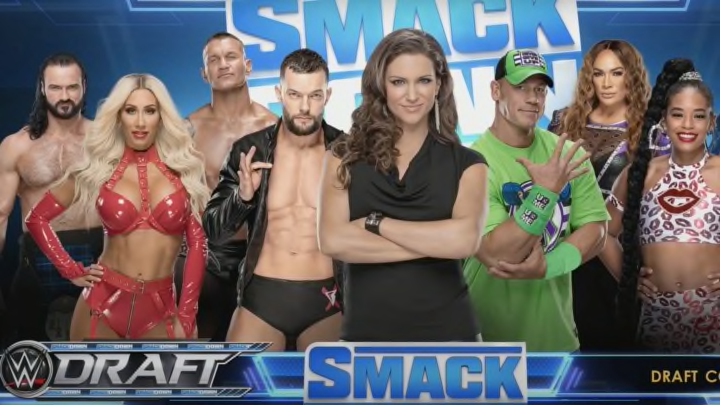 In WWE 2K22, there are five styles of superstars to choose from / Photo Courtesy of 2K Sports and Visual Concepts
In WWE 2K22, there are five styles of superstars to choose from. It's important in MyGM mode to differentiate between these styles when creating matches, since opposite styles clashing make for better matches and storylines. 
One of these Superstar styles is the Fighter, a hard-hitting superstar who uses their speed and strikes to knock their opponents out. Here are the 5 best Bruiser Superstars in WWE 2K22 to use in MyGM.
5 Best Fighter Superstars in WWE 2K22
5. Carmella
Out of all of the supserstars in the Women's Division of WWE 2K22, Carmella is one of the best rule-breaker Fighters avaiable. She is actually a solid choice in WWE 2K22, with her combination of agility and strikes. In MyGM, she's a good choice for rivalries and Fighter vs. Bruiser matches
4. Samoa Joe
Samoa Joe left the WWE earlier this year, however he is still available in WWE 2K22, and he is still a beast. His strength and strong style strikes make him a dangerous Fighter, and he's just as dangerous technically with his submission finisher.
3. Asuka
Asuka has a great combination of strong style strikes, speed, agility and submission technique, making her one of the most well rounded WWE Superstars in the Women's division. Don't let her recent time in WWE in real life let you forget how talented she is — in WWE 2K22, especially MyGM, she is a top Fighter, and can be a top choice to make your inaugural WWE Women's Champion.
2. Randy Orton
He may not be the strongest in the WWE or the fastest, but Randy Orton is still one of the most dangerous and beloved superstars in the WWE. He has one of the most favored move-sets among Fighter-style superstars in WWE 2K22, largely due to the notorious RKO finisher. Even in 2022, Orton is still a hard hitting superstar and deserves to be a top-5 Fighter in WWE 2K22.
1. Finn Balor
With his combination of speed, high-flying maneuvers and ability to hit superstars hard, Finn Balor is easily the best available Fighter-style superstar in WWE 2K22. Coupled with the Coup De Grace finisher and his stamina to continue fighting for big matches, Balor is the best Fighter superstar to choose on your roster in MyGM.