WWE 2K22: 5 Best Giant Superstars in MyGM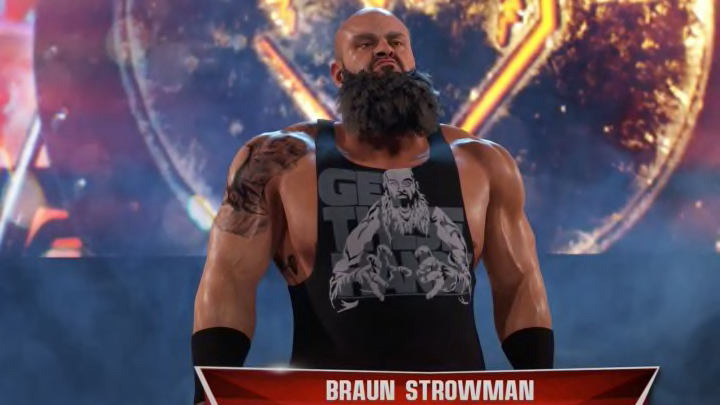 Braun Strowman WWE 2K22 / Photo Courtesy of 2K Sports/Visual Concepts
In WWE 2K22, there are five styles of superstars to choose from. It's important in MyGM mode to differentiate between these styles when creating matches, since opposite styles clashing make for better matches and storylines. 
One of these Superstar styles is the Giant, a powerful superstar who uses their size and strength to beat anyone who stands in their way. While they may not have the high flying ability or speed, Giants' power is usually unmatched, and they make great opponents for Cruisers in MyGM. Here are the five best Giant Superstars in WWE 2K22 to use in MyGM.
5 Best Giant Superstars in WWE 2K22
5. T Bar
T Bar is a member of the Retribution team, which was led by Mustafa Ali. He is a giant WWE Superstar with great strength and athleticism, and in WWE 2K22, he can grow to be a good Heel against any face Cruiser superstar in MyGM.
4. Walter
Walter is one of the stars of NXT UK in WWE, and his brute strength has made him a force to be reckoned with. In WWE 2K22, he is one of the top Giants, and with the potential to be the best Heel Giant on the roster, he would make a great signing in MyGM.
3. Nia Jax
There aren't many Giant-class WWE superstars in the women's division of WWE 2K22, but the best of all of them is Nia Jax. While she is no longer with the company, Nia is still available in WWE 2K22, and is a great choice for pairing against some of the best cruiser superstars in the WWE 2K22 women's division, including Alexa Bliss and Sasha Banks.
2. Keith Lee
Before Keith Lee left WWE late last year, he was emerging as a top superstar in WWE, due to his ability to move around the ring so agile for his size. You can play with Keith Lee in WWE 2K22 as a Giant, but he has the moves and ability of a Cruiser as well, making moves off of the top ropes look easy. Keith Lee is a fun superstar to use in MyGM, and you should definitely try to sign him if you can.
1. Braun Strowman
Braun Stroman was a fan favorite in WWE both as a Face and Heel, and the WWE Universe were shocked to see him released early last year. Fortunately for fans, he is still available to use in WWE 2K22 MyGM. Stroman's combination of speed, power, and well-rounded move set makes for a great signing in MYGM, and if he's available, we advise you to sign him for your long-term Cruiser/Giant rivalries.