Top Games
Xbox Game Pass October Perks Listed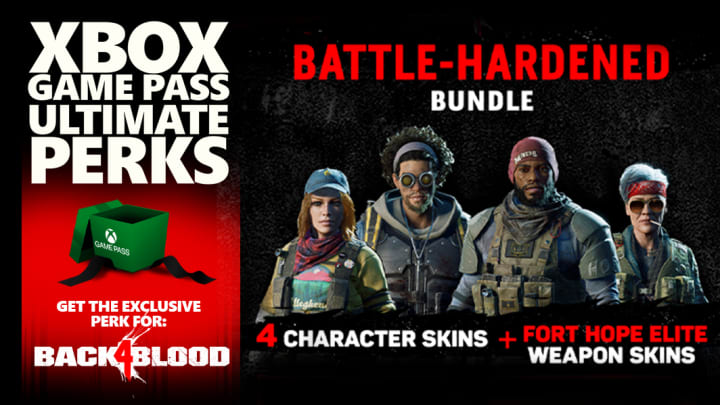 Xbox Game Pass subscribers can get some Back 4 Blood skins as a perk this month. / Photo courtesy of Turtle Rock Studios/Xbox
Xbox Game Pass' October perks offer more than just the free games associated with the service. This month, subscribers can enjoy in-game content for Apex Legends, Back 4 Blood, and Fallout 76, plus a few months of free Discord Nitro and a movie rental. Here's everything you get access to as an Xbox Game Pass subscriber in October.
Xbox Game Pass October Perks Listed
Phantasy Star Online 2: New Genesis: October Member Monthly Bonus
Jump into the all-new PSO2 New Genesis with some items to give you a hand! N-Half Scape Dolls (x5) to help revive you during intense battles, and Photon Chunks (x50) to strengthen weapons and units.
RuneScape Skilling and Currency Pack
Turbocharge your skilling with this bumper-pack of XP-boosting items, in-game currency, a free Companion, and more!
Apex Legends: Ranger Weapon Charm
Add some flair to your arsenal with the Ranger Weapon Charm, brought to you by EA Play!
Back 4 Blood: Battle-Hardened Bundle
Slay the apocalypse in style with the Battle-Hardened Bundle. Includes the Battle-Hardened digital content and Fort Hope Elite Weapon Skin Pack. Battle Hardened Digital Content Includes 4 Character Skins, Banner, Emblem, Spray and Title. Fort Hope Elite Weapon Skin Pack Includes 4 weapon skins: M4 Carbine Rifle, UZI SMG, 870 Express Shotgun and RPK LMG.
Fallout 76: Survival Bundle
Pick up a free bundle of Fallout 76 items including a Mr. Fuzzy Backpack skin, repair kits, and more!
Eternal Return: Ultimate Bundle
Grab the Ultimate Bundle to unlock 9 characters and A-Coin and XP Boosts to really get the experiments started.
"The Cabin in the Woods" Rental (U.S. Only)
3 Free Months of Discord Nitro
Three free months of an enhanced Discord experience with perks like custom emoji usage, repping a profile banner, per server avatars, 2 Server Boosts a month, bigger upload sizes and HD video. Valid for first-time Nitro users. If you're already a Nitro sub, you can claim 2 free months of Game Pass Ultimate.
All these perks can be claimed on Xbox consoles or through the Windows 10 Xbox app.