100 Thieves Return to Competitive Apex Legends, Sign Vein, scuwry and Onmuu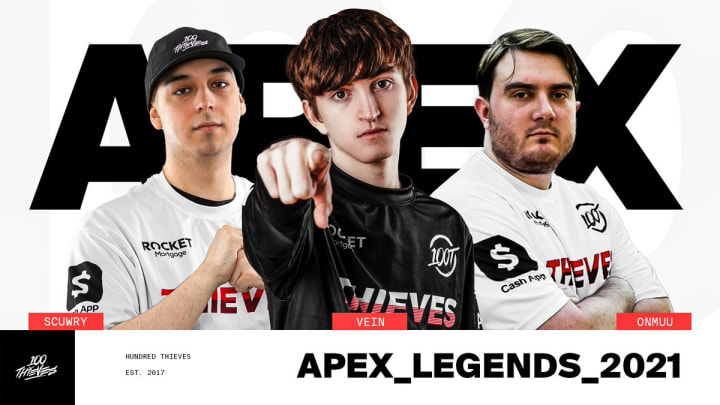 100 Thieves have returned to competitive Apex Legends after signing the reigning ALGS North American Champions. / Photo courtesy of 100 Thieves
100 Thieves are returning to competitive Apex Legends after signing the reigning ALGS North American Champions, the esports organization announced Friday.
Making the move over from Kungarna are Nicholas "Vein" Hobbs, Alex "scuwry" Scala and Brendan Pode, who now make up 100 Thieves' first competitive Apex Legends roster since August 2019.
With the game certainly building up plenty of momentum since then, now nearing its 11th season, 100 Thieves rebuffed their dedication to the scene having recently signed Apex content creator Jack "NiceWigg" Martin in September.
In addition to announcing the roster acquisition via Twitter on Oct. 8, 100 Thieves also dropped a YouTube video including org founder and CEO Matthew "Nadeshot" Haag and NiceWigg to break it all down.
Little time was spent before the duo went in-depth on their org's new trio, who are coming off of a $250,000 winning, first-place finish in the scene's largest online tournament in North America so far.
"From the beginning, man," NiceWigg said, "they've been one of the best gun-skill teams. When there was a meta of Pathfinder, Wattson and Wraith, where there was like no big abilities to affect gunplay and stuff, they were like the ones.
"The whole team is just mechanically gods. They developed the meta right now for what everyone is running, which is Valk, Caustic, Gibraltar."
After recapping Apex's humble beginnings dominated by ad-driven streams, as well as its rebirth thanks to the additions of Olympus, Horizon, Ranked Play and more over the months, Nadeshot also added his thoughts on the state of the game moving forward.
"Apex Legends has now solidified itself, in my mind," Nadeshot said, "as an IP that will be around for the next decade if handled properly."
Year 2 of the ALGS is set to ramp up tremendously, with the North American Pro League kicking off competition on Oct. 16.