Call of Duty
Best 1911 Weapon Loadout Warzone Pacific Season 3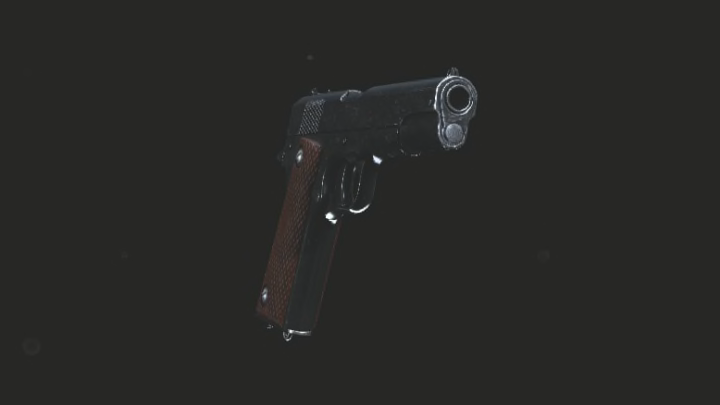 Here are the best attachments to use on the 1911 (VG) in Call of Duty: Warzone Pacific Season 3. / Image courtesy of Activision/Screenshot: Ralston Dacanay
This best Vanguard 1911 weapon loadout guide for Warzone Pacific Season 3 is here for those who want to make sure they're using the fully optimized version of one of the best weapons in the game.
As discussed by JGOD towards the beginning of Season 3, Restock is perhaps as important as it's ever been in the current meta thanks to the rising effectiveness of Snapshot Grenades. As such, running a true secondary with a strong pistol like the 1911 just might be best the way to go. Here are the attachments to use for the best 1911 loadout in Call of Duty: Warzone Pacific Season 3.
Best 1911 (VG) Class Setup in Warzone
Muzzle: Mercury Silencer
Barrel: Cooper Full-Auto
Trigger Action: Hair Trigger
Magazine: .45 ACP 18 Round Mags
Ammunition: Lengthened
Optic: Slate Reflector
Rear Grip: Polymer Grip
Perk 1: Fleet
Perk 2: Quick
Starting off the build, the Mercury Silencer is a great muzzle to use here as it improves the 1911's bullet velocity and horizontal bounce the most.
Next, we'd go with the Cooper Full-Auto barrel as it drastically changes its fire rate and overall damage profile for the better.
With the trigger action, we recommend the Hair Trigger as it helps out with the gun's fire rate, sprint-to-fire and tactical sprint-to-fire times and hip-fire spread.
We'd also go with the Lengthened ammo type as it adds some extra bullet velocity for free.
While the optic ultimately comes down to personal preference, the Slate Reflector is a great sight for this close-range build.
Add on the Polymer Grip as well, improving the 1911's recoil control once again.
Lastly, for the 1911's two weapon perks, we'd opt for Fleet and Quick to allow you to run around Caldera and Rebirth Island as easily as possible.
For more on Call of Duty, be sure to check out our top five lists:
Additionally, feel free to check out our timeline on the history of the Call of Duty franchise!