Call of Duty
Warzone Pacific Weapon Tier List May 2022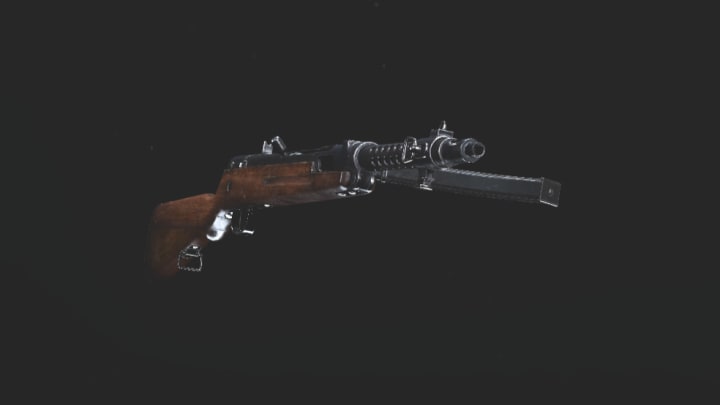 DBLTAP's weapon tier list for Call of Duty: Warzone Pacific, updated for May 2022. / Image courtesy of Ralston Dacanay, Activision
Our Warzone Pacific weapon tier list for May 2022 is here to go over which of the guns are the best to use now that the new meta has settled down a bit once again after the launch of Season 3.
Thus far in Season 3, not only have we received the new M1916 marksman rifle, Nikita AVT assault rifle and UGR SMG, but we also saw Raven Software release a fairly surprising balancing patch that has shaken up the meta once again. As such, here is how the weapons stack up in Call of Duty: Warzone Pacific Season 3 in May 2022.
Warzone Pacific May 2022 Weapon Rankings
S Tier
STG44 / Photo courtesy of Ralston Dacanay, Activision
These options in S Tier are expected to be most relevant in Warzone's weapon meta moving forward. The STG44, Type 100, Owen Gun, ZRG 20mm and XM4 appear to be the most likely to dominate in their respective roles, while the rest of the options here could certainly still emerge as the go-to weapons. As has been perhaps the biggest storyline of Season 3, the sniper rifle meta has drastically been shaken up as snipers may now use damage ranges as a defining characteristic of their one-shot potential, meaning the lighter and quicker ones will no longer be able to one-shot players at all ranges. As such, perhaps remaining atop the Warzone Pacific sniper rifle summit until further notice is the ZRG 20mm, which appears the best sniper to use for those looking to still simply one-shot heads.
A Tier
UGR / Image courtesy of Activision/Screenshot: Ralston Dacanay
Bruen Mk9
Groza
QBZ-83
Grav
FARA 83
M4A1
Streetsweeper
PPSh-41 (BOCW)
PP19 Bizon
Fennec
MG 82
M13
LW3 - Tundra
RAM-7
Sykov
Renetti
In A Tier are a wide variety of options that are top tier viable and remain generally very balanced to use in Warzone. Essentially, these options are right outside of the main meta but are still able to get the job done and allow you to be competitive. Aside from the ZRG 20mm, the AX-50 is perhaps the biggest winner of the sniper rifle reworks, reclaiming some of its appeal from the early Verdansk days as a decently handling sniper that can one-shot to the head at any range. The buffed Nikita AVT slots near the top of A Tier as it appears to be an excellent sniper support option. An unfortunate fall from grace, the Black Ops Cold War AK-47 finds itself out of the S Tier for the first time in a while. For now, we'll slot the all-new UGR in here as the only thing holding it back is its ammo capacity (either 30 or 36), which makes it really only viable for solos or duos.
B Tier
Here are the best attachments to use on the Bren during Season 1 of Call of Duty: Warzone Pacific. / Image courtesy of Ralston Dacanay, Activision
AMP63
RPD
FiNN LMG
Gallo SA12
Magnum
.50 GS
AN-94
CX-9
AK-74u
M16
MP7
MP5 (MW)
SA87
X16
Stoner 63
Uzi
TEC-9
Oden
These weapons in B Tier remain viable in Season 3, but could all use a slight buff in order for more players to seriously consider mastering them. Overall, these weapons are just fine but don't have anything that makes them stand out as fun or exciting options to use. A lot of these are fairly popular still but aren't as statistically sound compared to the guns above.
C Tier
Here are the best attachments to use on the M1916 in Call of Duty: Warzone Pacific Season 3. / Image courtesy of Ralston Dacanay, Activision
ISO
P90
Nail Gun
FN Scar 17
AX-50
VLK Rogue
R9-0 Shotgun
CARV.2
DMR 14
The C Tier includes guns that definitely could use a buff in Warzone. While those such as the Nail Gun have become weak after receiving numerous nerfs, others such as the G-43 simply run out of ammo much too quickly to be viable. The all-new M1916 slots in here as although it appears to be fun to use for medium range, having to use sniper ammo makes it tough to truly view as a decent option.
D Tier
Ratt / Image courtesy of Ralston Dacanay, Activision
AK-47 (MW)
FR 5.56
AUG (BOCW)
M60
MG34
M91
Type 63
SKS
M82
Rytec AMR
Hauer 77
Origin 12 Shotgun
1911 (MW)
1911 (BOCW)
RAAL MG
Holger-26
EBR
Model 680
KSP 45
Striker 45
725
At this point in the tier list, the guns don't have a place in the meta at all. Although the higher end of this tier could perhaps be fine for players to get a kill or two, it gets pretty dreadful by the bottom of the list.
F Tier
Dragunov / Image courtesy of Ralston Dacanay, Activision
.357
Mk2 Carbine
Crossbow (MW)
Crossbow (BOCW)
Dragunov
There is little to no hope for these weapons in F Tier, as well as those who happen to pick them up in-game. If you're in the Gulag, do what you need to do. Otherwise, look to swap out these guns from your inventory immediately.
For more on Call of Duty, be sure to check out our top five lists:
Additionally, feel free to check out our timeline on the history of the Call of Duty franchise!