Best STG44 Weapon Loadout Warzone Pacific Season 3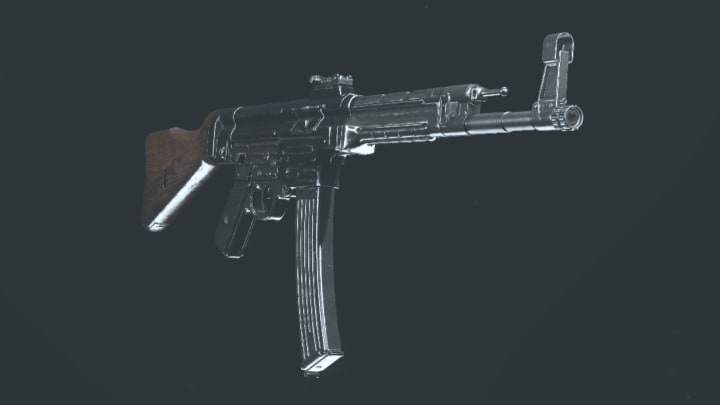 Here are the best attachments to use on the STG44 in Call of Duty: Warzone Pacific Season 3. / Photo courtesy of Ralston Dacanay, Activision
This best STG44 weapon loadout guide for Warzone Pacific Season 3 is here for those who want to make sure they're using the fully optimized version of one of the best weapons in the game.
As touched on in our assault rifle tier list for Call of Duty: Warzone Pacific Season 3, the STG44 just received some promising buffs for a good amount of its attachments, so it could easily move even higher up the popularity rankings in the coming days. Here are the best attachments to use on the STG44 in Call of Duty: Warzone Pacific Season 3.
Best STG44 Class Setup in Warzone
Muzzle: MX Silencer
Barrel: VDD 760mm 05B
Underbarrel: M1941 Hand Stop
Magazine: 7.62 Gorenko 50 Round Mags
Ammunition: Lengthened
Optic: G16 2.5x
Rear Grip: Stippled Grip
Stock: VDD 34S Weighted
Proficiency: Focus
Kit: Fully Loaded
Starting off the build, the MX Silencer is a great muzzle to use here as it improves the STG44's horizontal bounce the most.
Next, the newly buffed VDD 760mm 05B barrel is a great option now that it has even better boosts in the damage range and bullet velocity departments.
With the underbarrel, we went with the M1941 Hand Stop as it helps out with the gun's recoil control and ADS speed.
For the magazine, we'd go with the newly buffed 7.62 Gorenko 50 Round Mags attachment as its damage range and bullet velocity penalties have been removed, making it a no-brainer pick.
We'd also go with the Lengthened ammo type as it adds some extra bullet velocity for free.
While the optic ultimately comes down to personal preference, the G16 2.5x is a great sight for this medium-to-long-range build.
Add on the Stippled Grip rear grip and VDD 34S Weighted stock as well, as they both provide further vertical recoil and horizontal bounce control.
Lastly, for the STG44's two weapon parks, we'd opt for Focus and Fully Loaded to allow you to best be ready to get those easy picks at all times.
For more on Call of Duty, be sure to check out our top five lists:
Additionally, feel free to check out our timeline on the history of the Call of Duty franchise!