Black Ops Cold War SMG is Statistically Underrated in Warzone Season 3 Reloaded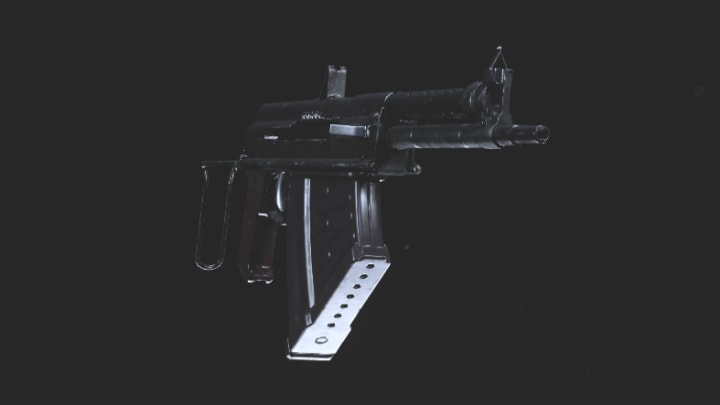 "Full-auto submachine gun. Underwater rifle modified for improved land performance. Fires 5.56mm steel darts with moderate bullet velocity." / Image courtesy of Activision/Screenshot: Ralston Dacanay
As it stands in Call of Duty: Warzone Season 3 Reloaded, the SMG meta is perhaps as balanced as it's ever been.
When taking a look at the upper echelons of SMGs in the game, it's no surprise that just the Vanguard offerings are dominating Caldera and Rebirth Island for the most part, aside from the Black Ops Cold War UGR that is. Having been added to the Warzone weapon pool a bit under the radar at the start of Season 3, the UGR remains to be one of the very best underrated options for players to use at the moment.
Aside from the sheer fact that it is a new Black Ops Cold War gun that was released during the Vanguard era, there are likely two main factors that have made the UGR one of the more slept-on options to this day.
First is that initially, what held the UGR back from truly being a part of the meta when it first arrived was its ammo capacity (either 30 or 36), which made it really only viable for solos or duos.
With the Season 3 Reloaded update, however, one of the most underrated buffs made at the time was the UGR's magazine capacity being increased to 40, up from 30, completely getting rid of that issue.
The second factor is that players do have to complete a unlock criteria challenge or buy the Lazar Operator Bundle in order to customize it.
Ultimately, however, the numbers show that those who've used the UGR are being well rewarded for their efforts.
According to WZ Ranked, the UGR has the sixth-best K/D and Win stats out of the Warzone SMGs, despite having just a 0.18% pick rate, which is easily the least out of those meta options.
Not only is the UGR almost single-handedly one of the best non-Vanguard options in the game at the moment, but it's also doing this despite most of its players just using the "Dealmaker" weapon blueprint's pre-made loadout for it, according to WZ Ranked.
For those looking to the give UGR a try at its best, feel free to try out this weapon loadout:
Muzzle: GRU Suppressor
Barrel: 10.7" Task Force
Magazine: Explosive Flechettes
Rear Grip: Serpent Wrap
Stock: Spetnaz Stock
For more on Call of Duty, be sure to check out our top five lists:
Additionally, feel free to check out our timeline on the history of the Call of Duty franchise!