Call of Duty
Call of Duty: Vanguard and Warzone Season 2 Roadmap Revealed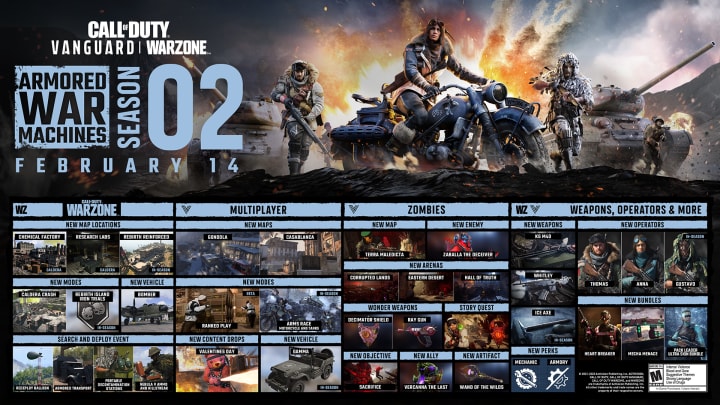 Season Two of Call of Duty: Vanguard and Warzone launches Feb. 14, 2022. / Image courtesy of Activision
The Season Two roadmap for Call of Duty: Vanguard and Warzone has officially been revealed, giving players a full-fledged, in-depth preview of what's to come starting next week.
Activision periodically releases a roadmap previewing each season prior to the update going live. This one, in particular, is one that die-hard Call of Duty fans will not want to gloss over as there are a ton of new events, weapons, modes, features, and more that the devs have surely cooked up to make up for the frustrations of Season 1.
While last time around, Activision focused on the launch of Vanguard-Warzone integration and Caldera, it appears Season 2's main course consists of armored war machines, chemical weapons, and an intensifying global conflict. Now, with the roadmap released, here's what Call of Duty fans can expect to see in Season Two of Vanguard and Warzone.
Call of Duty: Vanguard and Warzone Season 2 Roadmap Revealed
Vanguard and Warzone
Coming to both Vanguard and Warzone are three new Operators and four new weapons:
Anna Drake (Launch)
Thomas Bolt (In-Season)
Gustavo Dos Santos (In-Season)
KG M40 Assault Rifle (Launch)
Whitley LMG (Launch)
Ice Axe (In-Season)
Armaguerra 43 SMG (In-Season)
Vanguard
The headliner for Season 2, after numerous calls for it within the community, is indeed the launch of Ranked Play for Vanguard Multiplayer. Launching in beta at the start of the new season, the Vanguard Multiplayer Ranked Play mode will reportedly feature league-approved rules, visible Skill Ratings, new competitive rewards and more.
Additionally, Season will bring two new core Multiplayer maps to Vanguard:
Casablanca: "A shining jewel of Morocco, Casablanca is a medium-sized, three-lane-style map within a bustling marketplace. With several buildings to explore and climb upon, expect a variety of vertical engagements that invite a variety of close- to long-range tactics."
Gondola: "Don't look down on this medium-sized, three-lane-style map. Take a trip on the Gondola to travel above a large gulch and fire watchtower, but hop off before it rides off the cliff! Operators can also take advantage of the long sightline this gondola route provides, or head through the power plant and caves for more close-quarters battle."
Lastly, Season 2 will adding two new Perks, a new Lethal Grenade and a new Killstreak to Vanguard:
Armory (Perk 1): "A direct counter-Perk to Engineer, Armory is ideal for Operators who use more than just their weaponry in combat, namely placeable Demolition Charges, concussion mines, and placeable Field Equipment pieces."
Mechanic (Perk 2): "Mechanic provides a reasonable buff to Field Upgrade charge time, making it a must-have for completing challenges related to them or for Operators who love using them."
Sticky Bomb (Lethal): "A familiar sight for veteran players, the Sticky Bomb is a direct rival to the Frag Grenade and Gammon Bomb as a throwable explosive equipment piece.
Consider it the perfect choice for those stuck between a Frag and a Gammon Bomb."
Ball Turret Gunner: "Call of Duty®: WWII fans know the Ball Turret's power well.
Beginning the Season Two Battle Pass with a bang — or multiple across 30 seconds — the Ball Turret Gunner can be activated after achieving a 12 Killstreak, just like the Attack Dogs.
This Killstreak is hard to earn but rewarding to use, so prepare for potential carnage if you place it within one of three available slots."
Warzone
Coming to Warzone specifically in Season 2 are Nebula V Ammo and Bombs, which are said to create new offensive tactics, while Portable Decontamination Stations (P.D.S.) offer temporary refuge. Alternatively, players will be able to take to the skies with all-new Redeploy Balloons and Bomber planes.
Additionally, a pair of new POIs on Caldera called Chemical Factory and Chemical Weapon Research Labs. It appears AI "Axis soldiers" will be patrolling these new areas as well as can be found around the island in Armored Transport Trucks.
Outside of traditional Battle Royale and Plunder modes, Season 2 will feature two limited-time modes:
Caldera Clash: Level Up and Conquer Major Areas in This Team Deathmatch Twist
Rebirth Iron Trials: As hinted at by recent leaks, it appears the Battle Royale variant custom-made for highly competitive players will indeed be coming to Rebirth Island in a Duos configuration "later this month."
For more on Vanguard Zombies Season 2 content, feel free to check out the full patch notes here.