Call of Duty Warzone Map Revealed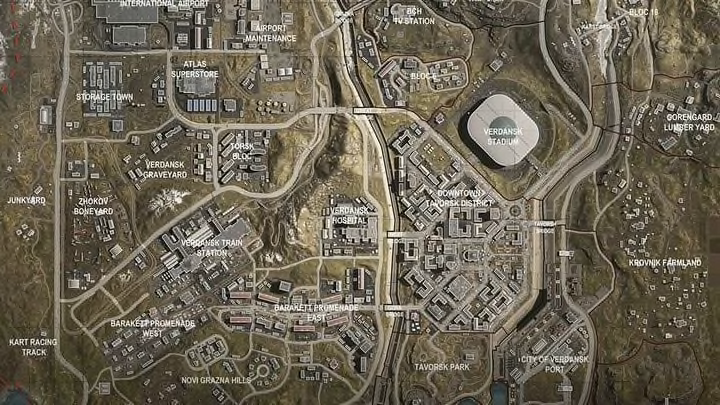 The Call of Duty Warzone map was revealed in a tweet Monday afternoon. / Activision/Infinity Ward
The Call of Duty Warzone map was revealed in a tweet Monday afternoon, just 24 hours before the anticipated battle royale game was scheduled to go live for owners of Call of Duty: Modern Warfare and thousands of other players.
Call of Duty Warzone Map Revealed
The tweet from the official Call of Duty Twitter account only has the phrase, "Where we dropping?" with a snapshot of the map attached. The map features dozens of landmarks that players may recognize from older games in the Call of Duty Franchise, like the Verdansk International Airport and the BCH TV Station, which were inspired by Terminal and Broadcast respectively.
Most of the major labeled locations are grouped together in the southern portion of the map, with only a handful of landmarks located in the northern part of the map, like the Gora Dam and Arklov Peak Military Base.
On first glance, the map looks absolutely gigantic and will give players a large array of landmarks and scenery to explore on their way to a victory in the battle royale game mode. Based on initial player comments, the Verdansk International Aiport and the Zhokov Boneyard look to be two of the most popular spots to drop, so be wary if you choose to drop there your first game.
Call of Duty Warzone Map Release Date
According to the official Activision blog, the new game mode will be available on March 10 with players who owned Call of Duty: Modern Warfare granted early access to the battle royal game. The early access starts at 11:00 p.m. EST with free-to-play players able to join the action at 3:00 p.m. EST.