Dr Disrespect on Warzone 2.0 Development: 'They Need a New Studio'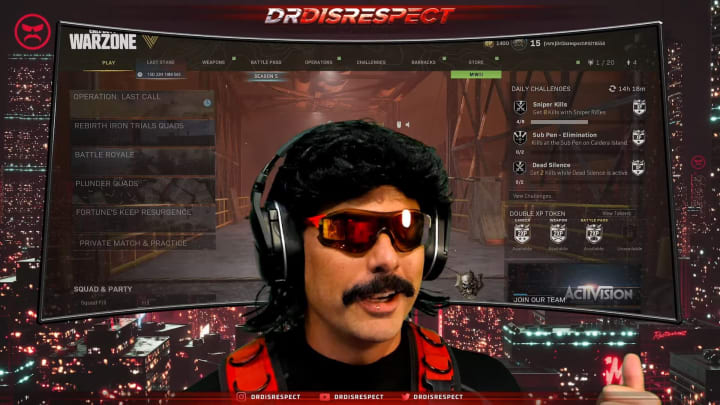 "I hope Raven is not on Warzone 2. They need a new studio." / Image courtesy of Dr Disrespect
Dr Disrespect was back at it again Monday, sharing his uncut, unadulterated opinion regarding Call of Duty: Warzone 2.0 — Raven Software should not be working on it.
Rumored to launch this November, Warzone 2.0 is said to be a "wholly new," "state-of-the-art experience" being developed in tandem with Modern Warfare II by Infinity Ward. Of course, this was the same recipe the original Warzone followed back in 2020 before Raven was seemingly handed the keys as of late.
Heading into the next era of Call of Duty, however, it appears the self-proclaimed "most ruthless, athletic competitor in video game history" has identified a clear change that needs to take place in order for Warzone 2.0 to succeed.
During his Aug. 29 stream, Dr Disrespect was sitting on what was looking like a 17-kill, solos dub on Caldera before he was ultimately bested by his opponent who had self-revive and perfect positioning.
Shortly after, the doc seemingly did not hold back in his rant — one that wasn't targeted at the player, but the devs themselves.
"Self-revive in solos. Braindead fucking game design," Dr Disrespect said on-air. "Get this game on a new team. Holy shit.
"I'm getting sick and tired of Call of Duty these days. I'm already over Warzone today. I literally am. I'm already over Warzone. It's a snoozefest. It's seventh-grade design, thinking. This game just makes me so fucking bitter, man."
Soon enough, TimTheTatman joined Dr Disrespect on stream, to which the two-time champ added that Raven needs to be replaced in Warzone 2.0.
"I hope Raven is not on Warzone 2," Dr Disrespect said. "They need a new studio. They need a new studio cycled in on this fucking game. They really do, man. Fingers crossed, Modern Warfare 2 is good, but more so Warzone 2 is good. Because if Raven's building Warzone 2 you might as well chalk it right now."
Ultimately, Dr Disrespect went on to add that Activision should just turn to Treyarch to lead the revamp for Warzone 2.0.
"I feel like it needs to dramatically shift in terms of its personality, its look, its fiction, whatever it is — the gameplay needs to shift. That's what was cool about going from Blackout to Warzone. It felt like there was a very strong contrast between the two styles of games and the studios that were involved. Now that Raven has sort of taken on Warzone and supported it, Caldera and all that shit, if they support Warzone 2, we're just going to get more of the same shit."
---
For more on Call of Duty, be sure to check out our other top five lists:
Additionally, feel free to check out our timeline on the history of the Call of Duty franchise!