Top Games
Epic Games Announces 'Crown Clash' Event for Fall Guys, Fortnite, Rocket League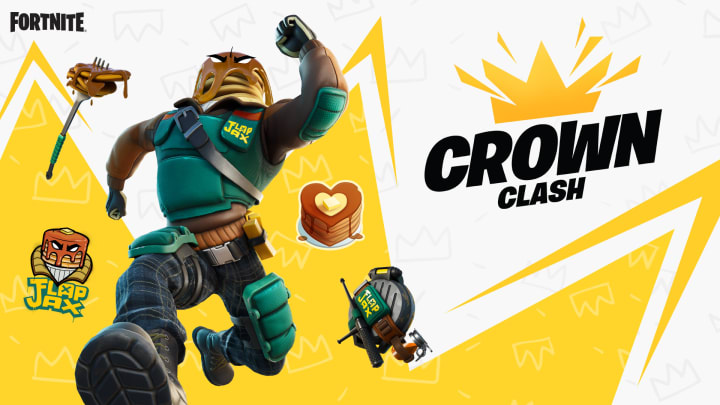 During Crown Clash, players can compete in Fall Guys to earn additional rewards in Fortnite and Rocket League. / Image courtesy of Epic Games
In celebration of the launch of Fall Guys Season 1: Free For All, officially ushering in the platformer battle royale game's free-to-play era, Epic Games has announced a three-game crossover event called Crown Clash.
Mediatonic and Epic Games have gone all-out in recent weeks to give Fall Guys the Rocket League treatment, moving the game to the Epic Games Store launcher and making it free-to-play. In addition to the Spartan Showdown and Halo: The Master Chief Collection crossover events, players can hop into Fall Guys to nab some limited-time rewards across three free-to-play games.
Crown Clash Event Rewards: Full List
From June 29 to July 11 at 6 p.m. ET, players can compete in Fall Guys during the Crown Clash to earn additional rewards in Fortnite and Rocket League.
The more participants play Fall Guys during the event, the more rewards they'll find whenever they load up Fortnite and Rocket League so long as they use the same Epic Games account.
Crown Clash Rocket League rewards / Image courtesy of Epic Games
In Crown Clash, all players have to do to earn rewards is play Fall Guys rounds:
Rewards for Playing 10 Fall Guys Rounds
Fall Guys: 300 Kudos
Fortnite: Stacked! Spray
Rocket League: Colorful Canines Player Banner
Rewards for Playing 20 Fall Guys Rounds
Fall Guys: Additional 500 Kudos
Fortnite: Stacked with Love Emoticon
Rocket League: Colorful Canines Topper
Rewards for Playing 40 Fall Guys Rounds
Fall Guys: Additional 800 Kudos
Fortnite: Sweet Clementine Pickaxe
Rocket League: Med. Rare Wheels
Rewards for Playing 70 Fall Guys Rounds
Fall Guys: Additional 1,000 Kudos
Fortnite: Waffler Back Bling
Rocket League: Cluster Buster Decal
Rewards for Playing 100 Fall Guys Rounds
Fall Guys: Additional 1,200 Kudos
Fortnite: Major Mancake Outfit
Rocket League: Fallout Boost