Epic Games Launcher Adds Itch.io App, Bolstering Indie Support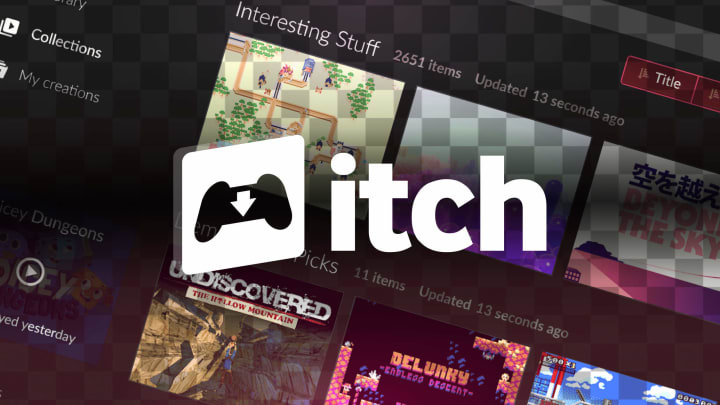 Itch.io's app is now available through the Epic Games Launcher. / Photo courtesy of Epic Games, Itch.io
Epic Games added several PC apps to its Epic Games Launcher, including the indie games storefront Itch.io and the privacy-focused web browser Brave. Also new to the launcher are music and radio streaming app iHeartRadio, 2D and 3D model generator KenShape and digital painting application Krita.
Itch's inclusion is particularly notable. Despite being the single most developer-friendly storefront in gaming, Itch has a much lower profile than something like the Epic Games Store. Developers set their own prices — many games on the platform are free — choose how they share their revenue with Itch, and design their own product pages, but it's hard to match the cultural ubiquity that being the home of Fortnite can bring.
Plenty of the most popular indie games of the last few years appear on Itch, including Finji's Night in the Woods, Innersloth's Among Us and Matt Makes Games' Celeste. It's also home to legions of weird, experimental, fascinating and deeply personal projects. As such, Itch serves as a keystone in the games ecosystem, giving designers a place to stretch their creative ambitions and maintain control of their creations.
Itch is a storefront directly competing with the Epic Games Store; many of the most popular games on the platform are also for sale through Epic's store, and Epic doesn't appear to be taking a cut from sales made through the Itch app.
Epic's goal, then, is likely two-fold. An altruistic reading of today's news is that Epic is more concerned with the health of the independent games scene than some small slice of potential revenue. By adding Itch's app to its launcher, Epic is putting it in front of hundreds of millions of new potential users.
A more cynical person might contend the decision is a shot at Apple, with whom Epic is in the midsts of a legal battle. Epic wants to put its storefront on the Apple App Store, so putting Itch on its own storefront shows it's willing to do what Apple won't.
Either way, the end result is a major boon for indie developers, and not the first one Epic's pursued. The publishing deals it signed with indie studios such as Playdead and Remedy Entertainment in 2020 are famously generous, and Epic seems poised to continue funding similar projects. Regardless of intent, Epic is positioning itself as an ally to the indie dev, and that's good news for games.