FIFA
FIFA 22 FUTTIES Weak Foot Nominees: Who to Choose
By Michael Grullon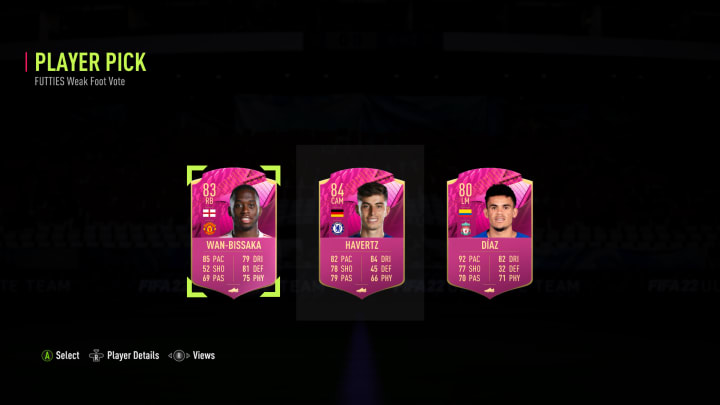 FUTTIES has officially been revealed by EA Sports in FIFA 22. / Photo Courtesy of EA Sports
FUTTIES has officially been revealed by EA Sports in FIFA 22. The first vote is officially live and features players who can be boosted to a five-star weak foot ability, as well as big stat upgrades.
The first vote features three choices to choose from: Luis Diaz, Aaron Wan-Bissaka and Kai Havertz. Two of the top-voting players will receive the upgraded cards and weak foot boost. Here's who you should vote for in the weak foot category of the first FUTTIES vote.
FIFA 22 FUTTIES Weak Foot Nominees: Who to Choose
All three players would make for great FUTTIES items if given a five-star weak foot upgrade. However, only two can be given the boost.
Kai Havertz is likely the one lock for the first FUTTIES vote. With his linking ability and solid cards in the past, he's arguably the most popular choice among the three FUTTIES contenders. A five-star weak foot would make him and Timo Werner's Shapeshifters item one of the best perfect links in the game.
As for the second option, players may also go for Luis Diaz rather than Wan-Bissaka. Luis Diaz is another winger from the Premier League, and adding a five-star weak foot alongside his pace and upgraded shooting on a FUTTIES item, he'll be a top-three winger from the Premier League.
Wan-Bissaka is a solid player, but with how many defenders there already are in the game from the Premier League, such as the new Shapeshifters Dan James, it'll be hard to compete. It's probably best to choose Havertz or Diaz.