FIFA
FIFA 22 Signature Signings Team 1 Revealed
By Michael Grullon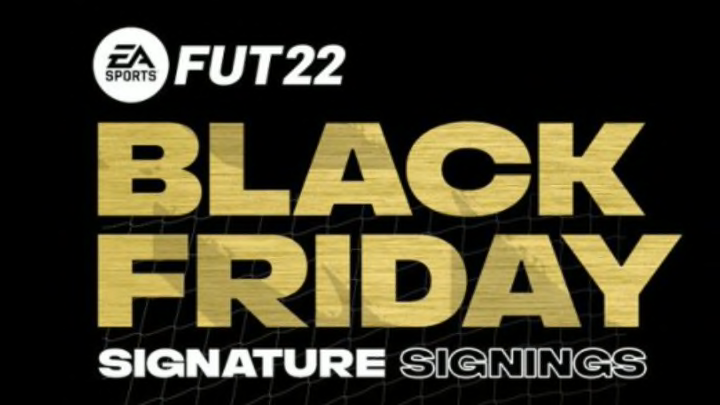 Black Friday is officially underway in FIFA 22, and with it, EA SPORTS has revealed team one of the Signature Signings promo. / Photo Courtesy of EA SPORTS
Black Friday is officially underway in FIFA 22, and with it, EA SPORTS has revealed team one of the Signature Signings promo. The promo celebrates some of the most successful transfers for select clubs in their recent history, with boosts to players who have had great success at their new homes in their debut seasons.
Here's everything you need to know about Signature Signings team one in FIFA 22.
FIFA 22 Signature Signings Team 1 Revealed
Manchester City v Club Brugge KV: Group A - UEFA Champions League / Matthew Ashton - AMA/GettyImages
According to EA SPORTS, this select group of players made positive impacts on their clubs in their debut seasons, and have been rewarded special items in-game with boosted stats. Here are the newest players revealed in team one:
Kevin De Bruyne: CAM, Manchester City- 93 Rated
Milan Škriniar: CB, Inter- 88 Rated
Ben Yedder: ST, Monaco- 87 Rated
Axel Witsel: CDM, Dortmund- 87 Rated
Andrej Kramaric: ST, Hoffenheim- 86 Rated
Raul Jiménez: ST, Wolves- 86 Rated
Diego Carlos: CB, Sevilla- 85 Rated
Renato Sanches: CM, Lille- 84 Rated
Youcef Atal: RB, OGC Nice- 85 Rated
Marcus Edwards: RW, V. Guimarães- 84 Rated
Jesper Karlsson: LW, AZ: 83 Rated
This squad brings the return of some of the most elite cards over the years in FIFA from the Ligue 1: Renato Sanches, Atal, and Ben Yedder. Their items in-game are great for any Ligue 1 team, and can all grab chemistry off each other in the 4-2-2-2 formation if you're able to get them. De Bruyne is one of the best midfielders in the world and has been one of the best signings by City in years since he joined in 2015. The rest of the cards are very solid, with some of them already running cheap in the transfer market due to the Black Friday rush.
This will be team one, according to EA SPORTS, meaning we will be getting a small team two soon out of the Signature Signings promo. It will be interesting to see what other players are added to the promo come release of team 2. We already have the best-of TOTW in packs, so there are many great cards up for grabs in FIFA 22 at the moment.
FIFA 22 Signature Signings: How Long is Team One in Packs?
Team One is in Packs until Tuesday Nov. 30, at 1 p.m. ET.